Barcelona attack prime suspect killed, all 12 terrorists dead or in custody - police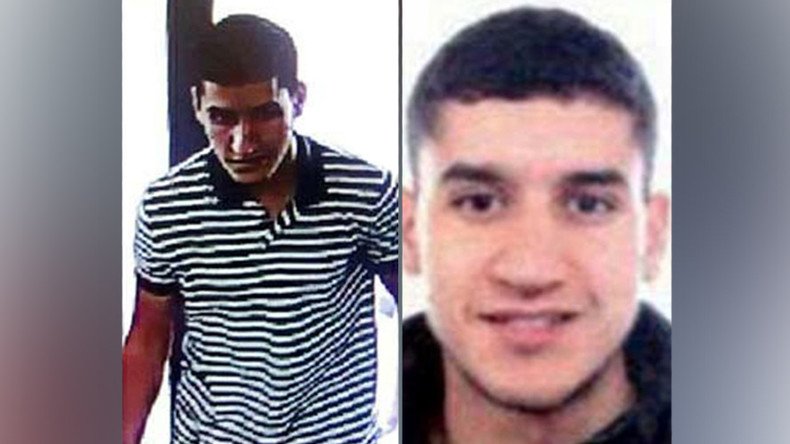 Catalan police confirmed the shooting death of Younes Abouyaaqoub, the main suspect in the Barcelona attack on Las Ramblas in which 14 people died and over 100 were injured.
All 12 members of the terrorist cell which carried out the attack are either dead or in custody, but the authorities are not closing the investigation.
"Today the 12 names that we have always referred to are in the hands of the justice system, or sadly, as a result of their actions, have been killed," Catalan police chief Josep Lluis Trapero told a press conference Monday evening, as cited by Reuters.
Despite Abouyaaqoub's death, Trapero stated that the international probe into the attack "should not be considered closed," adding instead that "new lines of investigation have been opened up and there will be further developments in the coming weeks."
Trapero confirmed the death of Younes Abouyaaqoub, 22, the suspected driver in the terrorist attack on Las Ramblas in Barcelona on Thursday in an operation at Subirats, just outside Barcelona, following a manhunt which began last Thursday.
Trapero also confirmed that Imam Abdelbaki Es Satty, suspected of being the mastermind behind the operation, was killed in an accidental explosion at the cell's base of operations in Alcanar.
The bomb disposal unit deployed a robot at the scene to inspect what they thought was an explosive belt worn by Abouyaaqoub.
Abouyaaqoub was shot as he approached a police vehicle. Local media claim that police helicopters are searching the area for a suspected accomplice and authorities have asked people in the area not to broadcast the location of checkpoints as the security operation is ongoing.
Earlier Monday, police released an image of Younes Abouyaaqoub, seeking information on his whereabouts. "The driver of the van is dangerous and may be armed. Wanted for his role in the attack in Barcelona's Las Ramblas, which occurred on August 17," Catalan law enforcement said.
READ MORE: 'I prefer him in prison or dead:' Mother of Barcelona attack suspect calls on him to surrender
A total of 15 people died as a result of the terrorist attacks in Catalonia on Thursday. Thirteen died in the attack on Las Ramblas, while one other was killed in the attack in the resort town of Cambrils later that day.
The driver of a car used as an escape vehicle by the suspected van attacker succumbed to his injuries today having been stabbed multiple times.
You can share this story on social media: