Donors handed Tories record £25mn for election fight, yet Theresa May still lost majority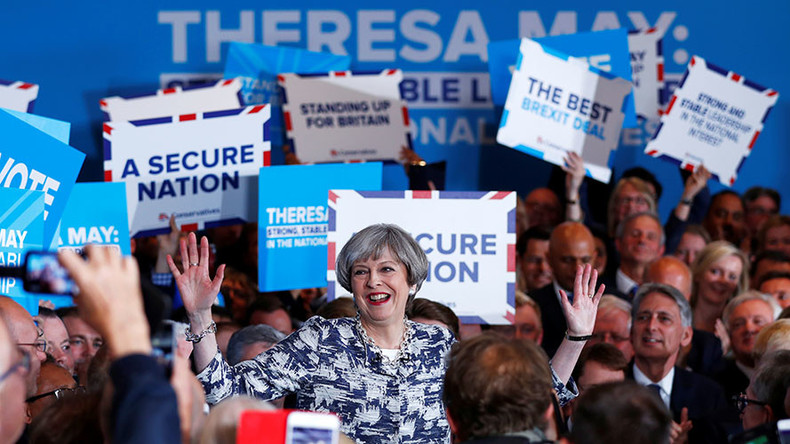 Tory donors handed Theresa May a record £25 million to fight an election in which she lost 13 seats, new figures have revealed. The sum is almost three times the amount Labour received.
The Electoral Commission says political parties received £40.1 million (US$50 million) in the three months leading up to the June election. More than half the cash went to the Conservative Party, which took almost £24.8 million, compared to the £9.5 million for Labour.
The Liberal Democrats raised about £4.4 million, while UKIP managed £150,000, the Greens around £175,000, the Women's Equality Party almost £300,000 and the Welsh nationalist Plaid Cymru just £5,300.
The total was £9.4 million more than the previous highest quarter on record, which coincided with the 2015 general election.
Among the biggest donations to the Tories was £1.5 million from Anthony Bamford, a Conservative peer who helped fund the Brexit campaign.
Other wealthy businessmen who each gave more than £1 million to the Tories included John Armitage, a hedge fund manager, and John Griffin, the founder of the Addison Lee taxi firm.
The Tories' largest donor was construction vehicle manufacturer JCB, which gave £1.5 million.
Labour's largest sum was from Unite, Britain's biggest trade union, which donated £1.3 million.
In total, political parties received more than quadruple the amount they were given during the first three months of 2017.
The high sums given in such a short space of time reflect the fact that May unexpectedly called a snap election, so parties had less time to build up a war chest over several years.
The huge financial advantage, however, was not enough to prevent the Conservative Party from losing its parliamentary majority and weakening the prime minister's authority.
The election was an embarrassing turn for May, who called the vote three years earlier than required in the hope of strengthening her negotiating hand in Brexit talks. Quite the opposite was achieved.