Oh Cod! Could Britain sacrifice its fish stocks to secure Brexit trade deal?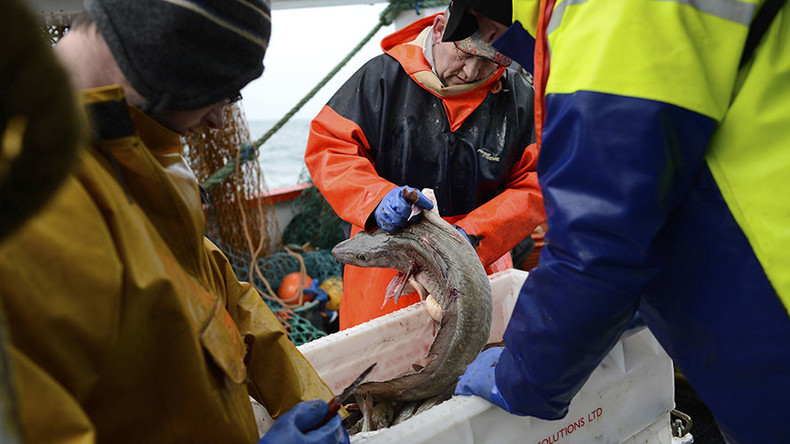 A fresh cabinet split has emerged as top Tory MPs clash over whether to use fishing rights as a Brexit negotiating pawn.
Environment Secretary Michael Gove and Chancellor Philip Hammond are at loggerheads over who will be allowed to fish in Britain's territorial waters after Brexit in March 2019, according to the Sun.
During a confrontation at a recent cabinet Brexit meeting, Hammond said the government should pool its power over who can fish in Britain's waters with the EU in exchange for big concessions on a trade deal with Brussels.
Gove, however, was adamant Britain must retain full control of who receives permits to fish in UK waters.
"Philip and Michael had quite an exchange on what to do with fishing rights already," a source told the tabloid.
"Michael was adamant that giving them away again would be a terrible betrayal of the coastal communities who all voted for Brexit. This will be one of the major Brexit division lines in cabinet in the autumn as we begin trade talks."
A second source said although Gove and Hammond have "different priorities," they are "not quite at war yet."
Earlier this month, Gove told the Danish fishing industry that boats from EU countries will still be able to operate in UK waters after Brexit, as the UK does not have enough capacity to catch and process all its fish alone.
The comments from Gove, recounted by Danish fishing leaders after they met with him, prompted complaints from the Liberal Democrats and the Scottish National Party (SNP) that the government's stance on the issue was confused.
In July, Gove said Britain was "taking back control" of its fisheries by departing from the EU common fisheries policy, which lets member states fish between 12 and 200 nautical miles off the UK's coastline.
He also announced the UK's withdrawal from the London fisheries convention, signed before the UK joined the EU, which lets vessels from the UK, France, Germany, Ireland and the Netherlands fish within between 6 and 12 nautical miles of each other's coasts.
The Department for Environment, Food and Rural Affairs (Defra) said the plan had always been to allow other nations some access to UK territorial waters after Brexit, and that the extent of this could now be decided by the UK.
Getting an agreement to open British waters to French, Dutch, Spanish and German trawlers is a major priority for their governments. Last week, German Chancellor Angela Merkel pledged to protect fishing access to Britain's North Sea waters during an election campaign visit.
She told a rally in the port city of Cuxhaven: "I can tell those involved in fisheries: we will push for fair conditions for the deep-sea fishers."
You can share this story on social media: