Met Police chief Cressida Dick ignoring 'racially disproportionate' stop & search, activists tell RT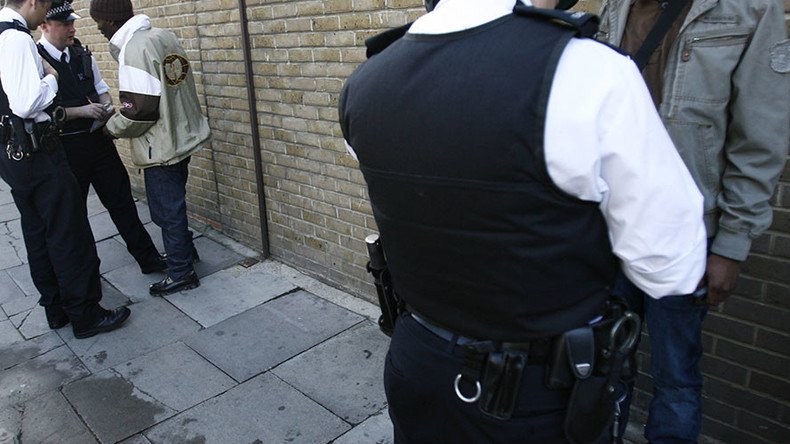 Metropolitan Police Commissioner Cressida Dick is not taking the disproportionate use of stop and search powers on black and ethnic minorities seriously, campaigners told RT.
StopWatch has accused Dick, the UK's most senior police officer, of falling "silent" on the practice and the extent to which it actively targets people from black, Asian, and ethnic minority (BAME) backgrounds.
The Met commissioner recently backed an increase in the number of stops and searches, saying their reduction had led to an increase in knife-crime across the UK.
Dick also vowed to fight the perception that the searches mainly target BAME groups.
"In London about one in three stop and searches result in something being found.
"That shows we are not just doing random work," she said in a comment piece for the Times.
"We need to fight that perception; we are absolutely not doing that.
"It has no place in modern policing. Our outcome rate – one in three positive – is the same whether you are black, white or whoever you are."
Her remarks, however, seem to be at odds with Home Office figures released last year, which reveal that people from black and ethnic minority backgrounds are six times more likely to be targeted in the searches.
Yet Dick was backed up by Home Secretary Amber Rudd, who said the practice is "vital" to keep the public safe, and that she would support more searches in a bid to tackle the recent wave of acid attacks.
"I want to be crystal clear – we have given the police the powers they need and officers who use stop and search appropriately, with reasonable grounds and in a targeted and intelligence-led way, will always have my full support," she said, also writing in the Times.
"This includes using stop and search to confront the use of acid as an appalling weapon of violence."
StopWatch policy and communications coordinator Carson Arthur, however, warned the increase will "impact negatively" on the community rather than tackle crime.
A Home Office evaluation of The Tackling Knives and Serious Youth Violence Action Programme, an initiative largely involving the use of stop and search, found that the practice has "no significant crime-reducing effects."
Arthur hit out at authorities for failing to "acknowledge" such evidence, adding that while there were fewer than 400,000 stop and search procedures conducted by police in England and Wales in 2015/16, the reduction has only been in those targeting white people. By contrast, searches on black people have increased.
He called for an overhaul of regulations so that searches are only used if there is "reasonable suspicion."
Claiming the practice is an important tool for police if used "fairly and effectively," Arthur said it can only be one part of the counter-crime strategy.
The StopWatch representative said police should instead "engage" with communities. More searches only "compromises the relationship and erodes trust from black ethnic groups" in the police. This "undermines" their ability to combat crime.
Shadow Home Secretary Diane Abbott said the government should stop lying to the public about the efficacy of the practice.
"The government should stop trying to con the public by attempting to cover up their failure to tackle rising violent crime. When the crime stats were released they insisted crime was falling, but now they want to increase stop and search," Abbot said, according to the Guardian.
You can share this story on social media: