What is the British govt really hiding in its secret archives?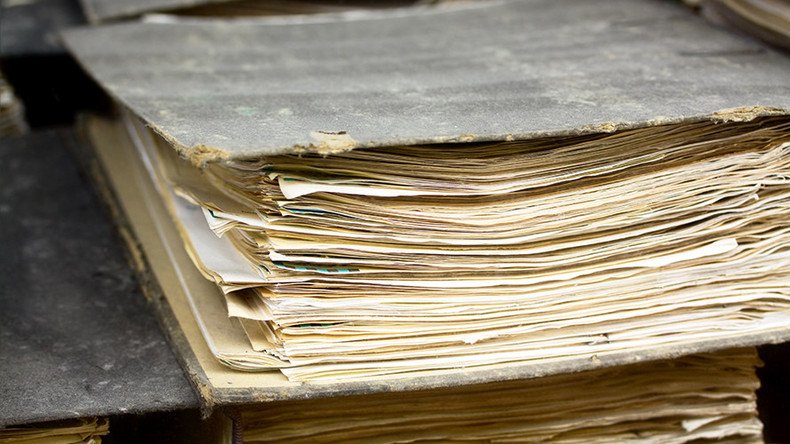 As Britain's love affair with state secrecy collides yet again with public demands for transparency, RT asks what exactly Her Majesty's Government has to hide.
Rather than release a trove of documents under the 30-year disclosure rule, the British government says it will keep many of its secret files under wraps, citing ongoing national security interests.
A number of files from 1986 and 1987 had been due for release to the National Archives at Kew, west London. But, not for the first time, government departments decided to exercise their right under transparency laws to withhold documents.
A shadowy loophole, called Section 3(4) of the Public Records Act 1958, allows departments to retain files "if, in the opinion of the person who is responsible for them, they are required for administrative purposes or ought to be retained for any other special reason."
These include 40 on UK arms sales to India, 15 on similar dealings with Saudi Arabia, and 27 relating to a visit to the Middle Each by the Prince of Wales and his late former wife, Diana.
Some 986 documents were retained this year – up 460 on 2013 figures.
Condemning the decision on Tuesday in an interview with the Times, Liberal Democrat leader Vince Cable said Britain's obsession with secrecy is an "affront to our democratic ideals."
As questions hang over the contents of these files, RT examines some of the British establishment's dirty secrets it doesn't want you to know about.
Saudi arms deal
Many of the most contentious files being withheld relate to UK activities under the leadership of late Tory Prime Minister Margaret Thatcher.
Among these are files covering the al-Yamamah deal in the 1980s – the biggest arms deal in British history – in which the UK saw off French competition to secure a contract to sell Hawk and Tornado jets to the Saudis.
One key set of files, called 'Mark Thatcher and the Omanis; other allegations against Mark Thatcher,' have been retained, potentially indefinitely.
The files are thought to relate to Sir Mark Thatcher, the PM's son, and his involvement in the deal.
Files involving another major arms deal with India from the same period have also been retained.
Sikh temple
Documents thought to relate to a 1984 massacre at a Sikh temple in India have also been kept back.
Campaigners have long lobbied for the truth about the Golden Temple incident, in which Indian troops killed up to 400 Sikhs, according to official estimates. Others claim the number of deaths was in the thousands.
It has long been rumored that the massacre occurred under the watch of Operation Bluestar, led by UK special forces advisers from the SAS.
A partial release of documents in 2014 confirmed that an SAS officer had indeed planned Bluestar, which was designed to dislodge Sikh 'militants' who had occupied the temple.
One of those papers, a memo from a Foreign Office official, read: "We have impressed upon the Indians the need for security; and knowledge of the SAS officer's visit and of his plan has been tightly held both in India and in London."
VIP pedophiles
While many documents are retained to keep them out of public view, there is a consistent tendency for others to go missing entirely from government archives.
Accusations of skulduggery were levelled at the government when in 2014 it was reported by the Home Office that 114 files relating to alleged high-profile child abusers had disappeared.
RT reported at the time that the lost files were part of a dossier compiled in the 1980s by the now deceased Conservative MP Geoffrey Dickens. This dossier was passed to then-Home Secretary Leon Brittan.
Dickens, who died in 1995, told his family he had details in the dossier that would "blow the lid off," naming powerful and famous child abusers.
Mark Sedwill, who served as permanent secretary to the Home Office in 2014, admitted that the Home Office had lost, destroyed or simply "not found" more than 100 of these potentially relevant files.
Saudi terrorism funding
While many files date back decades and have been withheld under a loophole in the 30-year rule, other important information which could shed light on more recent events has been retained.
This includes the findings of a government-sponsored inquiry into UK terrorism funding which was due to be published in 2017.
It paid particular attention to the means by which UK-terrorist groups finance themselves with money from abroad.
However, the Home Office announced in May that the "very sensitive" nature of the findings meant the report would not be released.
It is widely rumored that the report tuned up substantial evidence that Britain's major Middle East ally and arms customer Saudi Arabia is deeply involved in sponsoring Islamist extremism and was kept from view to protect UK/Saudi relations.
Rendition & torture
Britain outwardly claims to be a purveyor of fundamental human rights, including the right to open justice and legal accountability.
In reality, the UK has become deeply attached to closed and secret courts, where the needs of national security can be used as justification.
One example of this is the case of Abdelhakim Belhaj, a Libyan dissident who was kidnapped from southeast Asia with British help and returned to his North African homeland to be tortured by the regime of Colonel Muammar Gaddafi. His then-pregnant wife Fadima Boudchar was also rendered.
Belhaj is currently suing the UK government for the symbolic sum of £1. Yet his plan to expose high-profile political figures linked to his rendition – including Tony Blair-era Foreign Secretary Jack Straw and former MI6 chief Mark Allen – was scuppered when the High Court ruled that the civil case should be heard in secret.
Justice Popplewell, presiding over the matter on July 21, accepted the seriousness of the case but ruled that it would be heard in secret as the details "would cause significant damage to the interests of national security … irrespective of the current sensitivity of the intelligence itself."
You can share this story on social media: