Orange Order's Nazi-style costumes to be investigated by Scottish police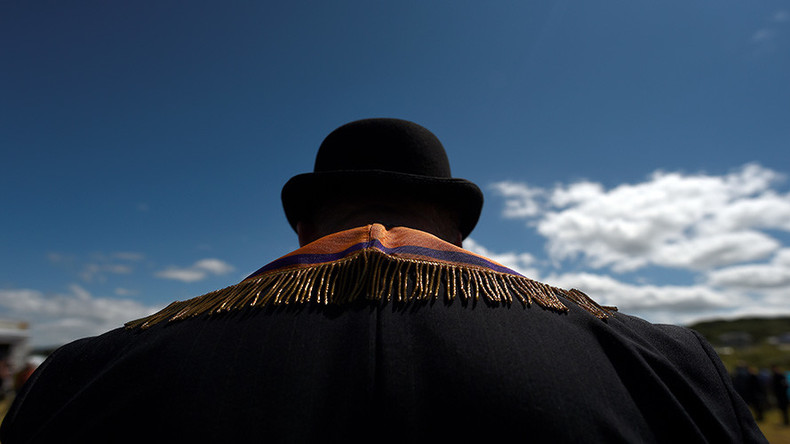 Police in Scotland are investigating images from an Orange Order social event, one of which shows a man in what seems to be an Adolf Hitler costume alongside two children dressed up as Holocaust victims.
The picture was taken at a Halloween fancy dress competition at the District Orange Hall and Social Club in Airdrie, North Lanarkshire, reports the Sunday Herald.
It shows a man wearing a German WWII military-style hat and costume while performing a Nazi salute.
READ MORE: 'F*** off back to Scotland,' Tory MP tells schoolgirl
Meanwhile, two boys can also been seen in the photograph wearing jumpers with yellow star-shaped patches similar to ones the Nazi Germany government made Jews wear.
In other photos obtained by the Sunday Herald, a person dressed as the Pope can be seen to carry out a mock self-hanging.
The images are believed to date between 2010 and 2013. They were reportedly published on a Facebook page for a local flute band.
A spokesperson for Police Scotland confirmed to RT.com that an investigation will soon begin into the images.
In a statement, the Grand Orange Lodge of Scotland rounded on the Sunday Herald for what it described as "skewed" coverage of the organization. It did not comment on the images though.
"The Grand Orange Order of Scotland is disappointed to note that the Sunday Herald have chose to not cover any of the attacks carried out recently on Orange premises."
It added: "The Grand Orange Lodge of Scotland does not seek immunity from media criticism, but surely the Herald has a duty to be impartial or even-handed.
READ MORE: Hitler's 'Mein Kampf' becomes bestseller in Germany, 85K copies sold in 2016
"We understand that the press has a role to play, but there is a difference between holding to account and pursuing a baseless agenda to attack and demonize our Protestant Culture & Heritage."