Trump adviser Bannon has portrait of himself dressed as Napoleon, gifted by Nigel Farage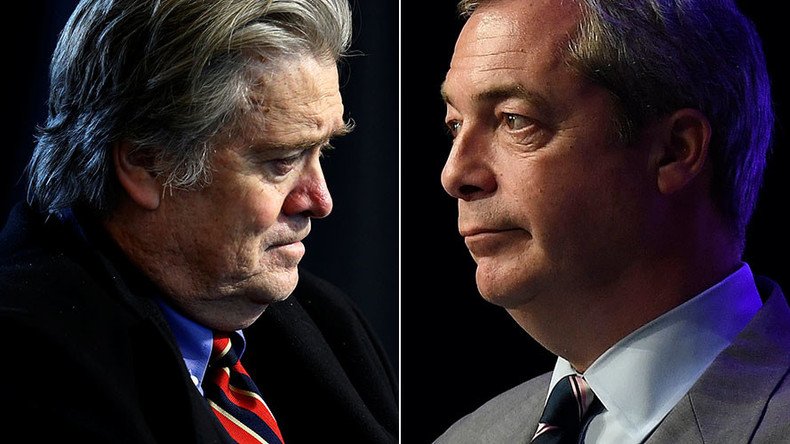 Steve Bannon owns an oil painting depicting him dressed as French imperial colonel Napoleon Bonaparte, a gift from former UKIP leader Nigel Farage, it has been revealed.
According to Joshua Green, who has written a new book on the White House chief strategist entitled Devil's Bargain, the painting used to hang in Bannon's office when he was at the helm of Breitbart News.
Green told New York Magazine that the painting mimics Jacques-Louis David's 1812 neoclassical portrait of Napoleon sitting in his study at the Parisian Tuileries, with one hand tucked into his jacket.
Napoleon's disheveled appearance in the painting was meant to show that he had been up all night composing the Napoleonic Code in his study.
While no images of Bannon's painting have been made public, some Twitter users have photoshopped Bannon's head onto the French ruler's body, suggesting that the portrait was a representation of Bannon's ego.
Trump- Jr is in trouble & I need a distraction

Bannon- I have a painting of myself as Napoleon that you can leak

Trump- Leak? I want one! pic.twitter.com/acGrpGadrI

— Red T Raccoon (@RedTRaccoon) July 10, 2017
Others have compared the painting to one portraying Tony Soprano from the popular TV series The Sopranos.
Farage has known Bannon since at least 2012 and contributed to the right-wing website Breitbart.
David's original portrait is on display in the National Gallery of Art in Washington DC, while a second version is in Versailles.
Commissioned in 1811 by the Duke of Hamilton, it was finished the year of Napoleon's ill-fated invasion of Russia. Two years after its completion, the French emperor had already been exiled to the island of Elba.
It is unclear where Bannon's version is currently hanging.
You can share this story on social media: