'Damp squib': May's plan for EU migrants shot down by key negotiator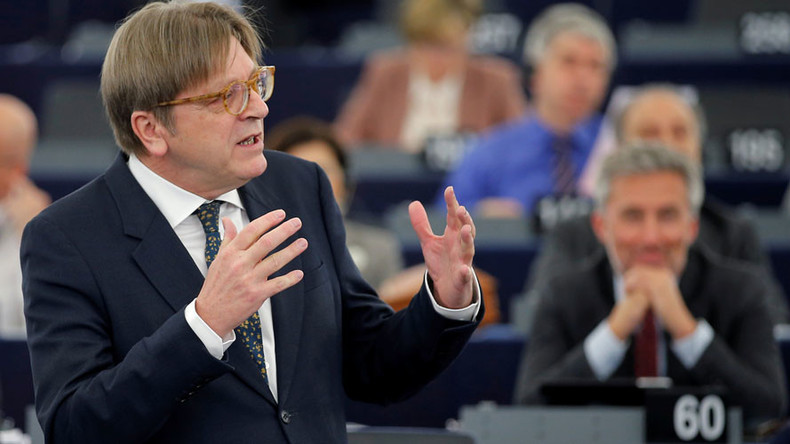 Prime Minister Theresa May's plan for the future of 3 million EU migrants living in the UK has been dismissed as a "damp squib" by the EU Parliament's chief Brexit negotiator.
During a dinner in Brussels with EU leaders last month, the prime minister outlined her "fair and serious" plans for the rights of millions of migrants in the UK following the country's withdrawal from the bloc.
The opening offer gives a "settled status" to those who have already been living in the country for five years, meaning they will be entitled to the same rights as British citizens, including healthcare, education and pensions.
However, the EU Parliament's chief Brexit negotiator, Guy Verhofstadt, has now hit out at the deal, saying it casts a "dark cloud" over EU migrants' status and risks leaving them with a "second-class citizenship."
The deal would allow those who have not lived in the UK for five years to work their way towards the five-year threshold, after which they would be allowed to reside in Britain.
The same chance, however, would not be given to those who arrive after the cut-off day, which could be anytime between March 29, when Article 50 – the bill officially kick-starting the two-year Brexit negotiations – was invoked, up to the day when Brexit effectively comes into place.
There will, though, be a two-year "grace period" which would allow for people to settle their status.
The Tory leader's proposed plan for EU migrants in the UK has received widespread criticism amid claims it fails to address several points, plunging people into deeper uncertainty.
Although May said she did not want families to be split up because of Brexit, there is concern that the proposed deal has failed to adequately outline what will happen to relatives of EU migrants residing in the UK.
In a joint article with cross-party senior MEPs, Verhofstadt has now warned that the EU Parliament will turn down any deal that fails to uphold the rights that EU citizens currently enjoy.
"The European Parliament will reserve its right to reject any agreement that treats EU citizens, regardless of their nationality, less favorably than they are at present," the MEPs said, according to the Daily Mirror.
"This is a question of the basic fundamental rights and values that are at the heart of the European project."