Conservative coup rumors swirl as May's popularity plummets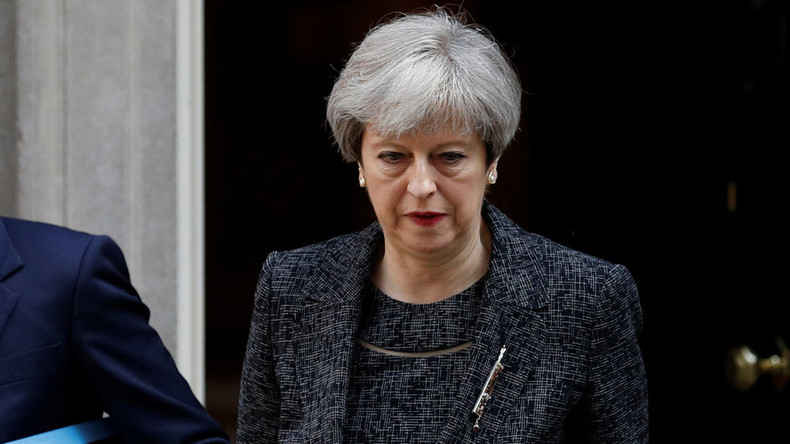 Prime Minister Theresa May risks being overthrown by members of her own party amid reports a coup is being planned for later this year.
According to the Sun, a government source said junior ministers are growing increasingly concerned that May, who has been described as a "horse with a broken leg" is being propped up by a "self-indulgent" Cabinet.
May has been facing increased pressure to resign after she called a snap election earlier this year in a bid to strengthen her government in the wake of Brexit negotiations.
However, in an astounding miscalculation, the PM failed to guarantee her party a working majority in the Commons, and was forced to scramble for a deal with the Northern Irish Democratic Unionist Party (DUP) that could allow for her government's legislation to get through the Commons.
Despite that, the current Cabinet has ruled out forcing May to resign for the next two years, and the PM says she is determined to stay on until the next parliamentary term, mid-ranking ministers are now reportedly considering a mass resignation that would see the leader being replaced much earlier.
"Selfish cabinet ministers are simply putting their own ambition before the country — it's self-indulgence and there is going to be backlash," the source told the Sun.
Meanwhile, another poll reveals the Tory leader is no more popular with people across Europe.
As global leaders flock to the German city of Hamburg for a G20 summit on Friday, a YouGov poll found that May scored minus 45 on popularity among Germans, the same as much-vilified Russian leader Vladimir Putin. The only other leader who ranked lower is US President Donald Trump, who scored -71.
More significantly, May is more unpopular than other leaders in her very own country, where she scored -27, compared to German Chancellor Angela Merkel's +3 and French President Emmanuel Macron's +17.
May's increasing unpopularity is widely thought to be down to her tough stance as she nails out the terms for Britain's withdrawal from the EU, and after her assertion that she will be a "bloody difficult" woman.
Support for May has also withered after she agreed a £1 billion (US$1.3 billion) deal with the Northern Irish Democratic Unionist Party (DUP) in order to push through government legislation in Parliament.
The deal, however, caused widespread backlash as the DUP is accused of being anti-LGBT, misogynist and having links to terrorist groups.