Boris Johnson wishes he could tweet like Donald Trump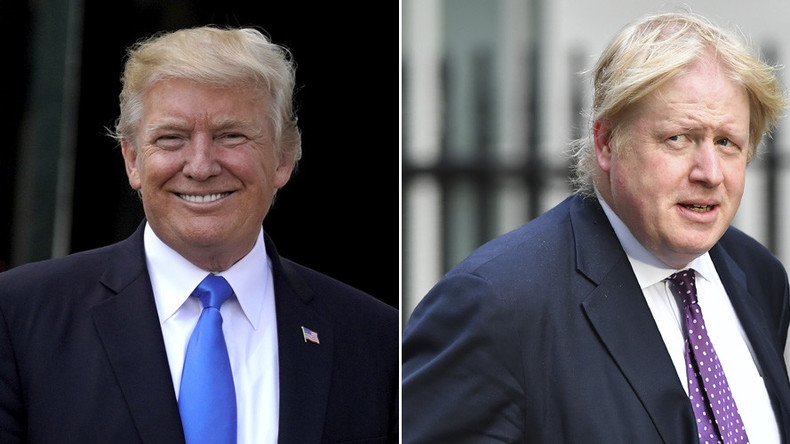 Foreign Secretary Boris Johnson has praised Donald Trump for capturing the world's imagination with his informal style.
Speaking during an interview on the BBC Radio 4's 'Today' show, Johnson admitted he envies the US president for being able to freely tweet his opinions and regrets not being able to do the same.
Trump has faced criticism for his unconventional use of the social media platform, especially following a volley of insults and accusations against journalists and politicians, including former US President Barack Obama, who he accused of wire-tapping his phones.
"Donald Trump's approach to politics has been something that has gripped the imagination of people around the world," said Johnson.
"He has engaged people in politics in a way that we haven't seen for a long time, with his tweets and all the rest of it.
"I certainly wouldn't be allowed to tweet in the way that he does, much as I might like to.
"I'm seeing my Foreign Office minders looking extremely apprehensive here."
Trump faced a backlash last week after he tweeted that MSNBC's 'Morning Joe' host Mika Brzezinski was "bleeding badly" from a face-lift.
The comments came after Brzezinski, along with co-host and fiancé Joe Scarborough, were accused by Trump of unfair coverage of his presidency.
...to Mar-a-Lago 3 nights in a row around New Year's Eve, and insisted on joining me. She was bleeding badly from a face-lift. I said no!

— Donald J. Trump (@realDonaldTrump) June 29, 2017
Trump's tweet caused a backlash on social media, including from Republican Senator Lindsey Graham, who described the president's remark as "beneath the office."
Mr. President, your tweet was beneath the office and represents what is wrong with American politics, not the greatness of America.

— Lindsey Graham (@LindseyGrahamSC) June 29, 2017
The foreign secretary's comments come as he prepares to accompany Prime Minister Theresa May to Hamburg for the G20 summit, where it is expected she will have a one-on-one meeting with Trump to discuss issues including climate change and North Korea's recent missile test.
May has previously been accused of cozying up to the US president as she failed to reproach him over his controversial policies, such as an order to ban people from seven Muslim-majority countries from entering the US.
She has, however, invited Trump to the UK, despite the threat of mass protests and a 1.8 million-strong petition calling for the invitation to be rescinded.
"We in the UK do not agree, by any means, with everything that Washington currently says," said Johnson.
"Whether it's on NATO, climate change, the Iran nuclear accord, it is the UK that is actually helping, we think, to mitigate, to get some of those American attitudes and policies that are currently coming out of the White House into a better place.
"If you look at the last 12 months or so there has been a great deal of progress."