Media elite: 51% of UK journalists went to private school, more than in 1980s – study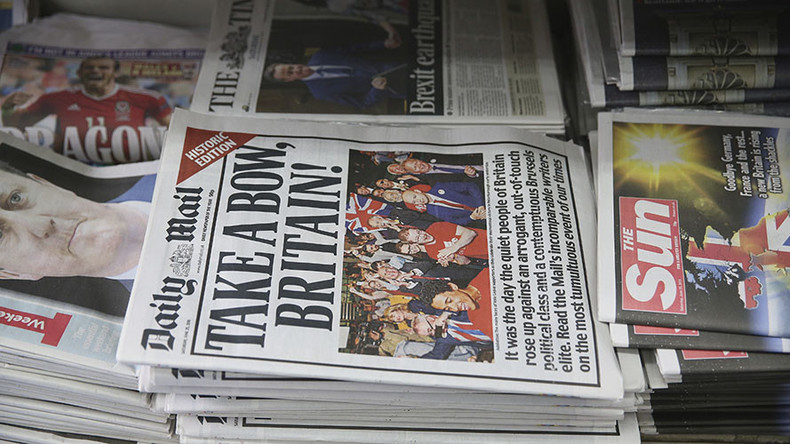 Britain's media industry now has a greater proportion of privately-educated journalists than two decades ago, a new study reveals.
Up to 51 percent of journalists in UK newsrooms attended private schools throughout their education, compared to 49 percent in 1986.
The study, published by the Social Mobility Commission, reveals the extent to which people from privileged backgrounds are given preferential treatment in recruitment.
The findings could also explain why some journalists seem to be so out of touch with the struggles of working-class people affected by government policies such as austerity and mass migration.
The findings come after Director General of the BBC Lord Hall of Birkenhead admitted that the television sector is too often a source of social exclusion, as it tends to only hire the "well-connected and well-off" from the south of England.
Speaking at a creative skills conference in March, Lord Hall said: "The truth is, broadcasting in particular remains a relationship-based, 'who you know' industry."
"Of course this marginalizes those who don't have connections… and it favors the well-connected and well-off from the southeast of England," he asserted, according to the Times.
Medicine, however, beat the media industry for growth in the number of privately-schooled people it employs, standing at 61 percent.
By contrast, the proportion of such individuals in CEO roles is now at 34 percent, down from 70 percent in 1987.
Just over half of solicitors were found to have been educated in private schools, down from 68 in 1988.
But the judicial sector was by far the most elitist of all, with 74 percent of judges having attended private schools.
The commission carrying out the research said that for years policies have failed to narrow the social gap between "haves and have nots."
"The old agenda has not delivered enough social progress," the commission's report says.
"The policies of the past have brought some progress, but many are no longer fit for purpose in our changing world," it added.
The report also found that while poor people are more likely to find a job than they were two decades ago, wages have stagnated following the 2008 financial crisis, meaning the demographic of in-work poor people has actually gone up.
The research also found that career advice in schools has been decreasing, with the sole exception of university visits, which have gradually become widespread.
Many of those who benefit from a private education go on to attend Oxford or Cambridge. The illustrious institutions are widely seen as the training ground for Britain's elite.
Both universities have been accused of failing to spot the potential of disadvantaged people, and for giving too much weight to high entry requirements instead of students' backgrounds.
Speaking at a higher education conference at Buckingham University, Les Ebdon, director of the Office for Fair Access (OFFA), said: "Do I think there's fair access at Oxbridge? Well, obviously not.
"If you ask me, 'Should they be doing more?' the answer is yes, obviously, because they have so few students from [the most disadvantaged groups], so few students on free school meals, so few students from different ethnic minorities.
"So yes, they certainly should be doing more, and that's my job, to make sure that they do more."
Ebdon, however, acknowledged that Oxbridge has "moved significantly" as it recorded the highest level of state school students in 30 years.
The OFFA director said the "real barrier" lies in the fact that barely anyone from state schools achieves three A* grades when they graduate, which is the main entry requirement for both of the top-ranking universities.
An Oxford spokesperson, however, hit back at the claims, saying the university "makes extensive, systematic use of contextual data to identify high potential in students from disadvantaged backgrounds."
"For 2017 entry, disadvantaged candidates have, for the first time ever, been more successful in winning offers to Oxford than the UK average," the spokesperson remarked."
Cambridge also dismissed the claims.
"Our admissions decisions are based on academic considerations alone. We aim to widen participation whilst maintaining high academic standards," a spokesperson said.
Ebdon's claims come as he published a report on widening access to higher education in the UK.
The report found that those from disadvantaged backgrounds are more likely to drop out of higher education in their first year compared to those from middle or higher-class backgrounds.
The 'Outcomes of access agreement monitoring for 2015-16' report also found that students' ethnicity is likely to determine what grade they will achieve once they graduate.
According to the study, while 76 percent of white students achieve a first or 2:1, only 52 percent of black students graduate with the same degree classes.
"I think it's an absolute disgrace that the class of degree that you get should depend on your ethnicity," said Ebdon.
You can share this story on social media: