Tory-DUP deal indicates British soldiers won't be prosecuted for N. Ireland 'Troubles' killings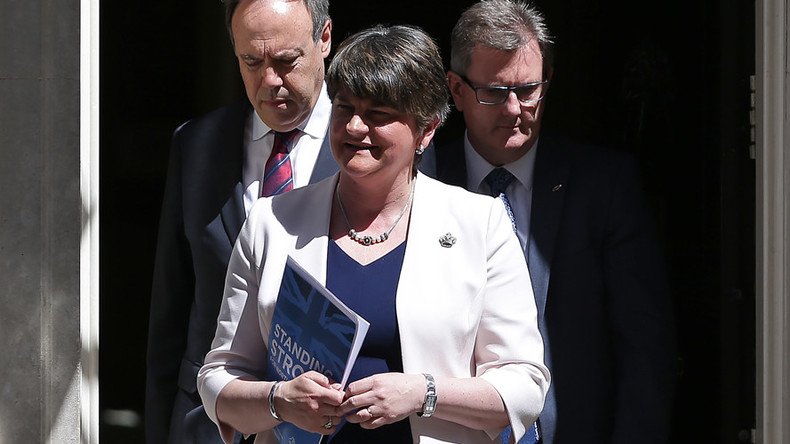 Nestled in the agreement between the Tories and the Democratic Unionist Party is a promise to draft a law to protect British security forces from prosecution over killings committed during the 30-year so-called 'Troubles' in Northern Ireland.
The contentious promise is contained in a section of the document, published Monday, entitled "Legacy," which states that:
"The UK government will work with the Executive and all parties to seek the implementation of the legacy bodies in the Stormont House Agreement, to provide better outcomes for victims and survivors."
It notes that a public consultation on the implementation of legacy bodies will be held and are to be established to "operate in ways that are fair, balanced and proportionate and which do not unfairly focus on former members of the armed forces or police."
"Both parties reiterate their admiration for the courage and sacrifice of the police and armed forces in upholding democracy and the rule of law and will never forget the debt of gratitude that we owe them," the subsection concludes.
READ MORE: Belfast court rejects inquiry into 1989 loyalist murder

The government in the Republic of Ireland has previously indicated that there should be no such amnesties or exemptions for any of those involved in the conflict on either side of the divide. The Times also notes that Irish ministers have written to the UK's Northern Ireland Secretary, James Brokenshire, stating that the Stormont Agreement also doesn't allow for such legislation.
Earlier this month, Sinn Fein president Gerry Adams said that any deal between the Tories and DUP would be "in breach" of the historic 1998 Good Friday Agreement, which brought about sustained peace to the island for the first time since the beginning of the decades long conflict.
In 2016, it was announced that two former soldiers are to be charged with the murder of Official IRA member, Joe McCann, in west Belfast over 44 years ago.
Republican activists have been seeking justice for the deaths of 10 people shot dead by the British army in the same area in 1971. There have also been reports that up to 18 soldiers were involved in the Bloody Sunday massacre on Derry's Bogside in 1972 when 14 people died as a result of a British Army Parachute regiment opening fire on an unarmed crowd during a civil rights demonstration.
A commission set-up to investigate the killings concluded that the victims were innocent of any wrongdoing.
Furthermore, Amnesty International has said that allegations arising from a BBC Panorama investigation alleging that British security forces colluded with loyalist terrorists on a vast scale leading directly to the deaths of hundreds of people must be fully investigated.
You can share this story on social media: