Sturgeon drops plans for 2nd Scottish independence referendum until after Brexit deal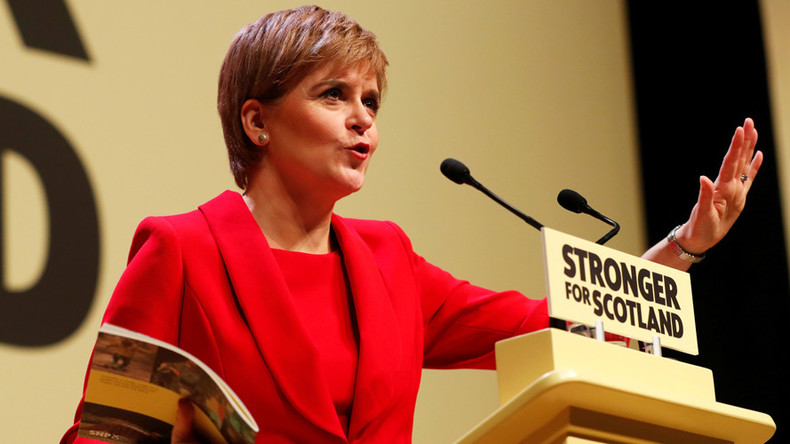 Scottish first minister and leader of the Scottish National Party (SNP) Nicola Sturgeon says she will delay her plans for a second independence referendum until after Brexit negotiations have concluded in autumn 2018.
The First Minister said there is "no doubt" her government has a mandate to call a second referendum.
She did, however, say it is important to "reset" the debate until after Brexit negotiations have progressed.
"We will not seek to introduce the legislation for an independence referendum immediately," she told MSPs.
The "uncertainty" of the Brexit process is now her priority and her party is focused on doing "everything in our power to get the best deal out of Brexit - the best deal for Scotland," she added.
"The Scottish government remains committed - strongly - to the principle of giving Scotland a choice at the end of this [Brexit] process.
"But I want to reassure people that our proposal is not for a referendum now or before there is sufficient clarity about the options - but rather to give them a choice at the end of the Brexit process when that clarity has emerged."
Scottish Opposition
Responding to Sturgeon's speech in the Holyrood parliament, Scottish Conservatives leader Ruth Davidson told the First Minister she should take the referendum off the table altogether.
"Yes voters and No voters, most people simply don't want this brought back any time soon and none of the questions - none of the questions - that are raised by Brexit are answered by ripping Scotland out of our own union of nations, our biggest market and our closest friends," said Davidson.
"I'm afraid to say that that statement will fail to give an assurance to those people that this First Minister is listening to them. Again, she makes virtually no mention of her domestic responsibilities. Instead she appears to be in denial about her mistakes over this last year and, as a result, is leaking credibility and confidence in her leadership by the hour," she added, to jeers.
"Her response actually hasn't been to reflect but to simply lash out at the UK Government at every opportunity and to sing the same old songs in the same old tune."
Sturgeon and her party had warned Prime Minister Theresa May that following the divisive Brexit vote, where 62 percent of Scotland opted to remain in the European Union, she would be seeking permission to call a second independence referendum. The overall result saw 52 percent of Brits choosing Brexit.
Reports over the weekend suggested that Sturgeon would set aside her plans for independence so she can focus on pushing for a 'soft Brexit.'
"The Scottish Government will stand the best chance of positively influencing the Brexit outcome if we are at the table, with the full backing of our national Parliament, arguing for the sensible option of staying in the single market," Sturgeon told MSPs.
"So, join us now, with no equivocation. Back the demands for the democratically-elected Scottish Government to be at the table, able to influence the UK's negotiating strategy and for Scotland and the UK to stay in the European single market."
While her original timetable published in March saw a new vote on Scottish independence taking place between autumn 2018 and spring 2019, she is said to have been "reflecting" on the plan following the snap election of June 8.
The leader of Scottish Labour, Kezia Dugdale, accused Sturgeon of ignoring the wishes of Scottish voters, who she suggested abandoned their support for the SNP because of threats of a second referendum.
"The truth is the threat of an unwanted second independence referendum is dead and this didn't happen because Nicola Sturgeon wanted it to, the people of Scotland have taken that decision for her," Dugdale said.
"The First Minister is digging her heels in, putting her fingers in her ears and pressing on regardless. She is just not listening."
Much like May's Conservative Party, the SNP lost a chunk of its seats in the House of Commons. The losses were particularly felt by the party's Westminster group, which lost leader Angus Robertson and 21 other MPs.
Greens insist on independence
The Scottish Greens have urged the SNP leader not to back down on her bid to have a second referendum.
"Following the 2017 General Election, it is clear that some are making the case that the relative fortunes of the political parties in Scotland give a basis for claiming that the right of people in Scotland to decide their constitutional future has been 'rejected,'" Greens co-conveners Maggie Chapman and Patrick Harvie said in a letter to the first minister.
"We cannot accept this and we urge you not to."
'Deliberately Vague'
However, many thought the First Minister was being deliberately imprecise with her referendum timetable to appease all sides in Holyrood.
"'Reset' is a deliberately vague and meaningless term chosen specifically to allow different groups to read different things into it," tweeted Times Scotland columnist Kenny Farquharson.