Housing minister denies Grenfell Tower 'cover-up' in car crash interview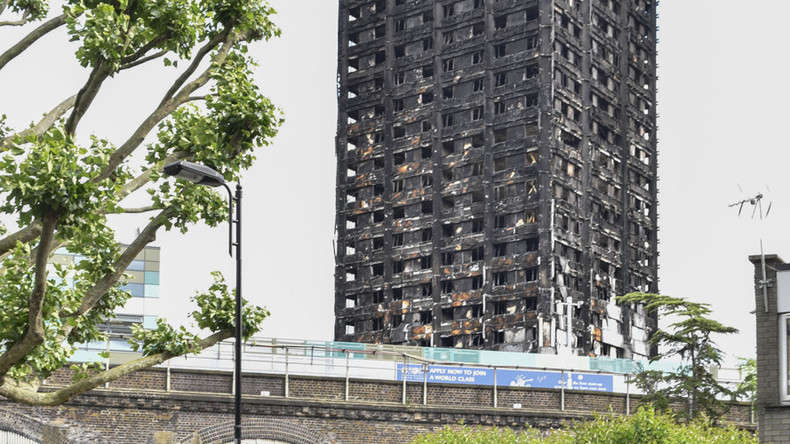 While denying a government "cover up" over Grenfell Tower, new Tory Housing Minister Alok Sharma repeatedly dodged questions about the legality of the building's cladding and the true number of victims.
As anger at the government's response to the tragedy simmers, Sharma refused to be drawn on whether the cladding on the building was illegal.
Appearing on ITV's Good Morning Britain on Monday, he was asked at least five times, but only told viewers: "From what we've seen it would suggest that the material used was combustible."
When asked whether a builder putting up the tower block now would be allowed to use the cladding, Sharma replied: "The building regulations are very clear. Any building above 18 metres, this would be non-compliant."
He was then asked by presenter Susanna Reid whether that meant the cladding is "banned," to which he said: "It means that you are not allowed to do it."
Pressed on whether this meant it was "illegal," he would only say: "Well, you are not allowed to do it, it is non-compliant. The regulations are very clear on this point, and clearly the public inquiry has been set up to investigate precisely what happened and we will get to the bottom of this."
Cladding is currently being tested on 600 tower blocks across the country. So far, 60 high-rise buildings have failed the safety tests and none of them have passed.
In a separate interview with the BBC, Sharma was forced to respond to allegations of a cover-up over the true death toll. Presenter Sarah Montague tried to get to the bottom of a "gap" in the figures between the number of people thought to have been in the building – up to 600 – and those so far confirmed dead or re-housed.
When asked to say how many people are missing, Sharma dodged the question by repeating the figure of 79, relating to those confirmed dead.
Pressed on the fact that up to 600 people may have been in the building but far fewer have been relocated or reported missing, he said: "That's exactly why we need to build up the picture and I would appeal to people who are listening to this who know people who were in that building to come forward and tell us.
"It is not about a cover-up, it's about making sure we have a complete picture."
He also dodged questions over how many of the families who had lost their homes have been relocated so far.
Refusing to give a number, he said: "We are in the process of talking to the families who were affected."
Pressed on the issue again, Sharma would only say: "There have been a couple of hundred households that have been affected by this, that we are talking to."
Sharma's performance has been criticized on social media, with many accusing him of refusing to give clear answers. His name was trending on Twitter on Monday morning.
Alok Sharma an absolute embarrassment on #r4today. Didn't know the numbers of missing or how many have been rehoused. Shady and incompetent.

— David Alexander (@DAlex__86) June 26, 2017
Alok Sharma finally gets a cabinet job where he can show off his incompetence to the wider public

— Alex Frost (@alexwfrost) June 26, 2017
Alok Sharma, Housing Minister, being 'very open and very clear' on #r4today. No, to be absolutely clear, he's not! #carcrashinterview

— David Merson (@DavidMerson) June 26, 2017
"Sarah let me start by saying I have absolutely no intention of answering any of your more challenging questions." 😐 Alok Sharma #r4today

— Clapton Blues (@garyfoskett) June 26, 2017
Alok Sharma relishing his turn at doing the "Let them eat cake" routine on #r4today this morning. A man of the people. Just not poor ones.

— Mick Collins (@MickPCollins) June 26, 2017