83 households refuse to evacuate from Chalcots flats despite 'fire hazard'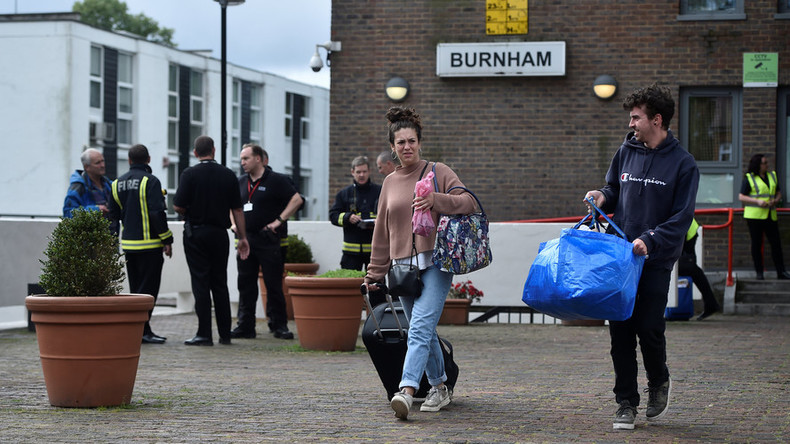 Scores of people have refused to be evacuated from a north-west London apartment complex identified as a fire hazard, despite the insistence of emergency services that the safety of residents cannot be guaranteed.
Camden Council took the decision to evacuate 650 households from Chalcots Estate on Friday night after receiving warnings from the London Fire Brigade.
READ MORE: 27 apartment blocks in 15 areas fail fire cladding tests – UK govt.
The operation saw some 4,000 people evacuated to alternative accommodation, which includes hotel rooms, beds at the Swiss Cottage Library, and bedding on the floor of a sports center.
However, scores of people have refused to leave the buildings, which fire officials say are "unsafe" to inhabit.
At least 83 households have failed to heed the evacuation warnings, a Camden Council spokesperson told RT.com.
He added that police will be talking to residents to "advise" them about the situation.
Asked when it will be safe for Chalcots residents to return to their homes, the council spokesperson said there is "no timescale" at the moment.

"The most important thing is that we finish the evacuation," he told RT.com.
Information points are expected to be set up to keep residents updated.
The short evacuation notice has been criticized by some residents.
One man living at the Chalcots development said he's been informed he could be living in temporary accommodation for a month.

"We just have been handed over letters stating that we may be evacuating for up to four weeks. We don't know where to go and we're very worried because we have four kids.

"They go to school locally. We are completely disturbed."
READ MORE: 800 homes in London tower blocks to be evacuated over Grenfell cladding fears - Camden council
Fire safety at UK apartment blocks has been under scrutiny since a fire destroyed Grenfell Tower in west London on June 14. London police are trying to determine whether recent refurbishments to the building's exterior contributed to the spread of the blaze, which has left 79 people missing and presumed dead.
Twenty-seven high-rise apartments, in areas including Manchester, London, and Portsmouth have failed fire cladding safety tests so far, the British government confirmed on Saturday. It's unclear whether these developments will also have to be evacuated.
Camden Council leader Georgia Gould said she "could not ask residents to stay in here for an extra night" due to safety concerns over gas insulation and cladding at the Chalcots Estate flats.
"Having to evacuate people from their homes is always going to be distressing for those residents, especially when we have to do it at such short notice," Gould said in a statement.
"I know some residents are angry and upset, but I want to be very clear that Camden Council acted to protect them. Grenfell changed everything, and when told our blocks were unsafe to remain in, we acted. We are now fully focused on supporting our residents and their needs over the weekend and onwards," she said.