Queen's Speech: Doubts cast on Donald Trump's state visit to Britain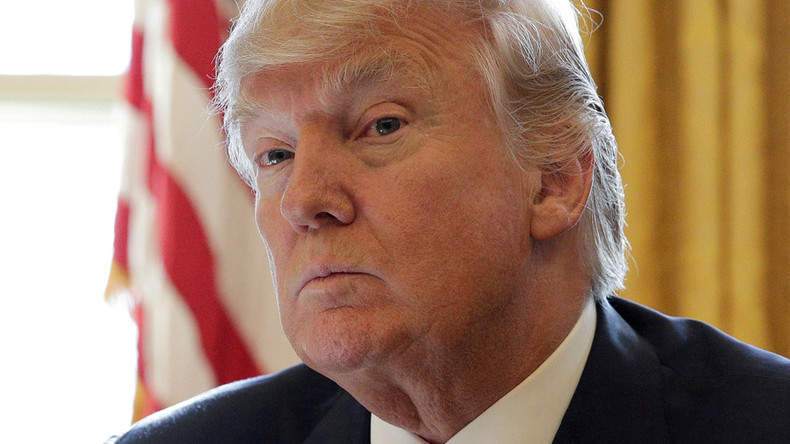 US President Donald Trump's planned state visit to Britain may have been put on hold, after the Queen did not mention it in her address to parliament.
The Queen's Speech traditionally includes the government's planned state visits, however the program announced for the next two years only contained a reference to welcoming King Felipe and Queen Letizia of Spain in July.
Trump's visit was initially planned for this summer. Prime Minister Theresa May invited Trump after they were pictured holding hands together on the White House lawn in January.
The visit threatened to spark large scale demonstrations, however. After May made the invitation, thousands marched through London to protest the decision, while 1.8 million people signed a petition urging May to rescind the invitation.
Trump reportedly later told the PM he would not go ahead with the visit if it was likely to cause widespread demonstrations.
There was further criticism after Trump attacked London Mayor Sadiq Khan over his response to the terrorist attack at London Bridge. Khan's office said he had simply been saying people should not be alarmed by additional police presence on the streets, but Trump accused him of making "pathetic excuses," prompting the mayor to call for the visit to be dropped.
Downing Street has refused to comment, according to Sky News, saying only that the invitation remained unchanged.
However, Foreign Secretary Boris Johnson has insisted that Trump's visit will go ahead despite there being no mention of it in the Queen's address.
"The visit will go ahead believe you me," he told Sky News. "The formality is you cannot put the date of the president's state visit into the Queen's speech until it has been actually agreed."
Meanwhile, May's minority government has dropped key Tory manifesto pledges, including expanding grammar schools and a free vote on restoring foxhunting, as the Queen announced a pared-down legislative program focussed on Brexit.
As she opened what the embattled PM hopes will be a two-year parliament, the Queen set out the government's intention to deliver the bills necessary for Brexit.
The speech included a series of domestic policies, including sweeping changes to technical education and establishing a new statutory anti-extremism commission.
There was no specific counter-terrorism legislation. There was a promise, however, that the government would review laws in the wake of a series of deadly attacks in recent weeks.
The speech reiterated May's promise to hold a public inquiry into the Grenfell Tower fire.
Grammar schools, one of May's flagships proposals, were not mentioned.
Instead, the Queen said: "My government will continue to work to ensure that every child has the opportunity to attend a good school and that all schools are fairly funded."
May, who is yet to conclude a deal that would see the Democratic Unionist Party (DUP)'s 10 MPs lend ongoing support to her agenda, is keen to show that she can continue to govern, despite seeing her majority wiped out in the recent general election.
MPs will be asked to support the speech in a vote next week, and opposition parties are likely to table a series of amendments.