Brexit negotiations begin in earnest as weakened Theresa May wrestles with DUP deal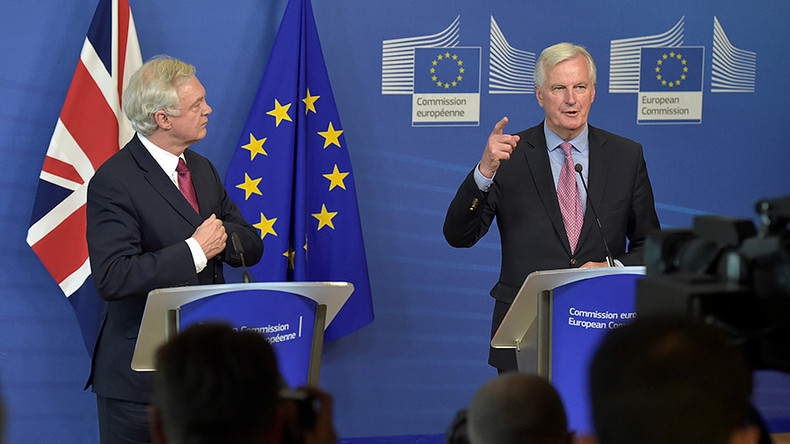 Formal Brexit negotiations began on Monday morning, but Prime Minister Theresa May still finds herself scrambling to shore up support in the House of Commons.
The PM would love to have commanded a strong Tory majority to pursue her hard-Brexit ambitions. Instead, after a disastrous General Election showing, she finds herself chasing a damaging deal with controversial allies, the Democratic Unionist Party (DUP).
The elusive deal may not be in place in time for Wednesday's state opening of Parliament.
Meeting in Brussels on Monday morning, Brexit Secretary David Davis and his European Union counterpart, Michel Barnier, agreed to meet every four weeks over the next 16 to 18 months to discuss the future settlement between Brussels and Westminster.
Negotiations will include topics such as the rights of EU citizens in Britain, British citizens living in the EU, Britain's relationship with the customs union and the single market.
The UK's full withdrawal from the bloc should be formalized in 2019.
The Conservatives' 'hard Brexit' policy, which would involve leaving the single market and slamming to door on free movement, has been softened in days, as a result of losing their parliamentary majority in the June 8 election.
The state opening of Parliament, also known as Queen's Speech, was delayed to allow May to secure a 'confidence and supply' arrangement with the DUP. Ten days after the election result, a deal has still not been reached.
Twists & U-turns
The start of Brexit talks comes after Chancellor Philip Hammond admitted May's original stance of "no deal is better than a bad deal" was actually a very bad idea.
Hammond warned that leaving without a deal could actually "destroy" Britain.
"No deal would be a very, very bad outcome for Britain, but there is a possible worse outcome and that is a deal that is deliberately structured to suck the lifeblood out of our economy over a period of time," he said.
British critics
British papers were also full of cartoons depicting the "disarray" facing the Conservative Party and their Brexit strategy. Cartoonists depicted Davis lost in notes against a dutifully-prepared Barnier, walking off a cliff blindfolded, and conjuring the spirit of Theresa May as EU leaders play on a ouija board.
Former Labour spin doctor Alastair Campbell also used the opportunity to mock May's new government's lack of efficiency, even within UK politics.
"If it takes the government this long to reach an agreement with 10 like-minded DUP MPs, I am not holding out much hope on Brexit in 2 years," Campbell tweeted.
Too hot to talk
Monday's meeting in Brussels might also be cut short after a staff memo advised those in the EU headquarters to avoid drinking alcohol and leave at 4pm due to hot weather.
Much like in England, Belgium is going through a heatwave, with temperatures reaching 32C on Monday afternoon.
Eurocrats were officially told not to wear suits and ties "where possible", "switch off the lights" and not to booze.
Pound rises (a little)
However, in spite of the lack of confidence in Davis and his team, the Sterling was modestly stronger on Monday, boosted by the talks ahead.
The pound rose by 0.015 percent, moving from $1.2778 to $1.2801 in the exchange markets.
Traders urged caution as the spike might not be long lasting.
"Although the prospect of a soft Brexit has the ability to support sterling, I feel the currency remains vulnerable to further downside amid the confusion and ongoing uncertainty that Brexit presents," FXTM research analyst Lukman Otunuga said.
You can share this story on social media: