DUP deal: Tories 'steadfastly' committed to N. Irish peace process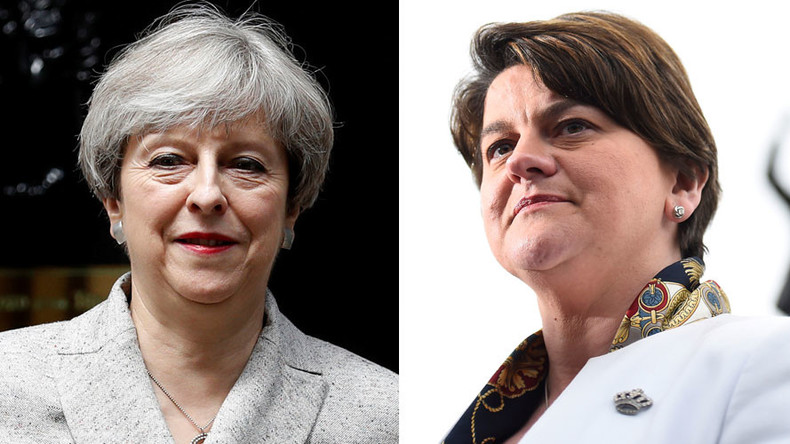 UK Prime Minister Theresa May insists the Conservatives are "steadfastly" committed to the hard-won Northern Irish peace process, despite holding controversial talks with the Democratic Unionist Party (DUP) to prop up her minority government.
"We as Government remain absolutely steadfast in our commitment to the Belfast Agreement and the subsequent agreements," she told reporters during an official visit to France on Tuesday evening.
"We continue to work with all the parties in Northern Ireland and the Republic of Ireland in ensuring that we can continue to put in place those measures necessary to fulfil those agreements," she said.
May took up her familiar refrain, arguing the deal is vital to "give the stability to the UK Government that I think is necessary at this time."
"We stand at a critical time with those Brexit negotiations starting only next week – I think that stability is important."
Speaking earlier on Tuesday, DUP leader Arlene Foster told reporters that discussions centered on "bringing stability to the UK government in and around issues around Brexit, obviously around counter-terrorism, and then doing what's right for Northern Ireland in respect of economic matters."
A DUP source told the Guardian the deal was 95 percent agreed but that the Grenfell Tower fire in London would likely delay any formal announcement of the pact.
Very glad that John Major has spoken out about this deal May is doing with the DUP. wrong in principle and dangerous to the peace process

— Alastair Campbell (@campbellclaret) June 13, 2017
Former Tory Prime Minister John Major, who has raised concerns about the potential alliance, warned the more extreme elements in both Catholic and Protestant communities could see an opportunity to re-enter the fray.
"The last thing anybody wishes to see is one or other of the communities so aggrieved that the hardmen, who are still there lurking in the corners of the communities, decide that they wish to return to some form of violence," he told the BBC.
On Wednesday afternoon it was reported that Sinn Fein president Gerry Adams and party leader Michelle O'Neill would come to London for a face-to-face showdown with Theresa May over the alliance.
"I will be making it very clear that any deal between the Tories and the DUP cannot be allowed to undermine the Good Friday and subsequent agreements," O'Neill said in a statement.
"Progress will not come from a deal between the DUP and Tories to prop up a Government in Westminster with an austerity and Brexit agenda," she warned.
You can share this story on social media: