Tottering Theresa May meets 'kingmaker' DUP to thrash out 'confidence & supply' deal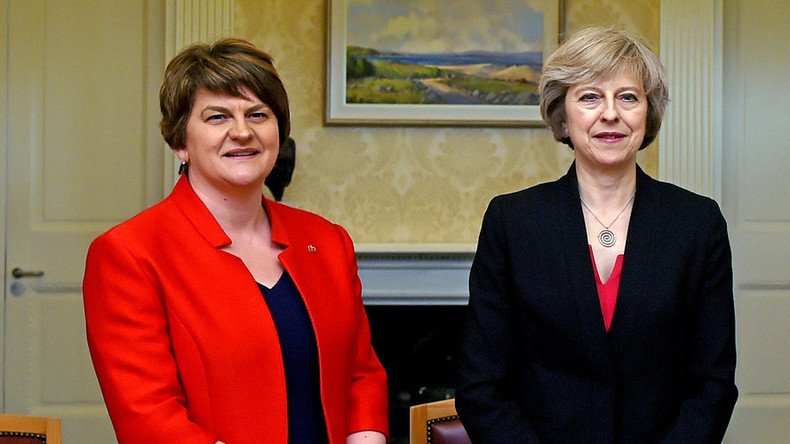 Prime Minister Theresa May has met representatives of the Democratic Unionist Party (DUP) on Tuesday in a bid to prop up her minority government, after the Conservatives were left eight seats short of a majority in last week's general election.
In a meeting with the Northern Irish party's leader, Arlene Foster, May was expected to thrash out the terms of a deal that will allow her to get legislation through Parliament.
Although May has said the DUP would have no power to veto key policies, Foster said she would strike a deal with the Conservatives as it is in the "national interest."
Following talks at 10 Downing Street, Foster tweeted "discussions are going well."
The DUP gained 10 seats in the election last week. With their support, May can make up for her own party's shortfall by striking a so-called "confidence and supply" deal.
The deal would entail the DUP backing the government on no confidence votes and policy investment, meaning the agreement between the two parties does not amount to a formal coalition.
"We enter these talks in a positive fashion, we are first and foremost unionists and therefore we want to secure the union," Foster told Sky News.
"But we do want to do so in the national interest to give stability to the government and that's why we will be entering these negotiations," she said.
May called the snap election in April aiming to win a big majority so that Britain would enjoy a strong hand in Brexit negotiations without opposition parties and Tory rebels holding her back. In reality, it was a massive miscalculation.
There is speculation that May, who had backed a 'hard Brexit,' will now have to adopt a softer stance when negotiating with EU officials in order to win support in the House of Commons.
Moreover, a soft Brexit stance is also likely to please the DUP, which still wants a comprehensive free trade and customs agreement with the EU, despite its pro-Brexit stance, as well as the guarantee of a "frictionless border" with the Republic of Ireland.
The PM will likely have to scale down on a whole range of policies set out in her manifesto for her minority government to be sustainable.
It is thought the PM will scrap plans to rethink the "triple lock," which guarantees the state pension, as well as means tests for winter fuel payments – two policies which proved unpopular during the election, and which have also been rejected by the DUP.
Her social care plans, including the highly criticized "dementia tax," are also bound to be excluded from the Queen's Speech, which was due to take place next Monday but has now been delayed ahead of a deal.
May on Monday met with Tory backbenchers to discuss her leadership in light of her botched election campaign, which left her party with fewer seats than it had before.
She apologized to fellow Tories for leaving the party in a worse off position than it was when she inherited the leadership from David Cameron.
She told the influential 1922 Committee of backbench MPs that she had got the party into "this mess" by calling the snap election, but she would "get us out of it."
Meanwhile, as many have called for May to resign, including former Tory Chancellor George Osborne, who branded her a "dead woman walking," some senior Tories have rallied to her defense.
Michael Gove, a former leadership rival, who was appointed environment secretary after losing his post as justice secretary in May's cabinet reshuffle last year, said the PM is the ideal candidate to lead the country through Brexit.
You can share this story on social media: