Troubles: Sinn Fein & DUP exchange fire over Westminster funding as Tories seek deal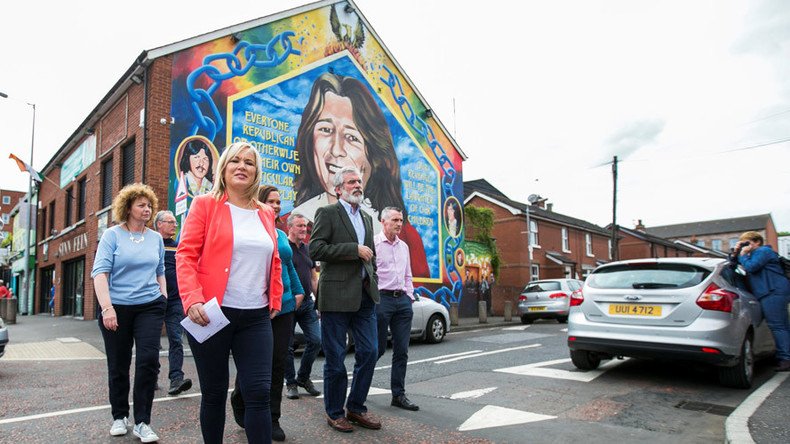 Republicans and Unionists are set to clash over Westminster funding as Sinn Fein president Gerry Adams dispatches his abstentionist MPs to rattle the Democratic Unionist Party (DUP) with the threat of a Corbyn coalition.
The ancient Irish foes look set to bring their beef into the heart of British politics as the DUP argue the price of joining the Tories in an alliance would be to hit Sinn Fein funding.
Meanwhile Sinn Fein president Adams is set to send his seven MPs to Westminster, purportedly to sign up for expenses and register as newcomers.
However their mission also appears to be designed to rattle Tory and DUP cages with the threat of a coalition with Jeremy Corbyn's Labour Party.
Republican Sinn Fein does not recognize British jurisdiction in Ireland and party MPs do not swear an oath to the Queen, meaning they cannot take their seats in the House of Commons.
Beleaguered Prime Minister Theresa May has been forced into an alliance with the hard-right DUP because Labour's shock election surge on Thursday shattered the existing Tory majority.
The DUP's links to loyalist paramilitary groups and their controversial views on women and LGBT issues have Britain in uproar, with hundreds of thousands signing a petition to oppose the deal.
One DUP demand would see any political donations to Sinn Fein from outside the UK banned, a move which would strip the party of access to cash from the US where a large ethnic Irish population offers financial support.
If granted, alongside a range of public spending requests for Northern Ireland, the DUP-Tory agreement would see Sinn Fein MPs deprived of parliamentary funding and stripped of their offices in Westminster.
While swearing loyalty to the Queen would be to abandon an enduring point of Republican principle, introducing the seven Sinn Fein MPs to the Commons would reduce the Tory-DUP pact's numerical advantage to just four.
A Sinn Fein spokesman told The Scotsman on Tuesday: "I can confirm that we will not be taking up our seats in Westminster."
May's attempt to strike a deal has rocked Northern Irish politics.
Republicans complain the Good Friday agreement, the 1998 peace settlement, is in peril.
One Sinn Fein MEP has pledged to ask the EU's chief Brexit negotiator Michel Barnier to guarantee the peace deal.
"The Tory/DUP position is contrary to the negotiating position set out and agreed by the European parliament ahead of the Brexit talks which called for the Good Friday agreement to be protected in all its parts," MEP Martina Anderson said.
Tory//DUP have a 5 seat majority ,,so why don't the 7 Sinn Fein MP's take their seats and vote this sham of a coalition down ??

— Sir Cybernat vss (@billyjYES) June 9, 2017
One of the architects of Good Friday, David Trimble, blasted the Irish Prime Minister (Taoiseach) Enda Kenny for his comments on Monday on the threat posed by the Tory-DUP alliance.
Accusing Kenny of "scaremongering," Trimble said: "I'm sorry to use that term with regard to Enda – for whom I have some regard – but this is just being silly.
"People are just trying to grab this as a stick to beat the government with," he said, adding that the government's obligation to "rigorous impartiality" was to do with discrimination and not party politics.
You can share this story on social media: