'He must have done it on purpose': Witnesses describe Finsbury Park attack (VIDEO)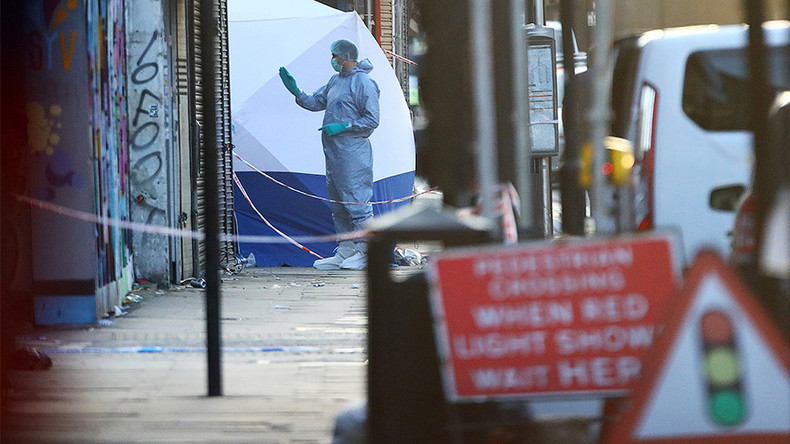 Witnesses of the suspected terrorist attack in north London's Seven Sisters Road told RT that the van driver "intentionally tried to crush people" as they exited a mosque after Ramadan evening prayers.
A young man told RT that "as soon as [evening prayers] finished" a man drove into the bus lane and turned onto the sidewalk, hitting passersby.
"He must have done it on purpose," the Muslim man added. "When I go to the prayers I am not going to walk down the road. That is something that scares me."
The white van ploughed into pedestrians near Muslim Welfare House and not far from the Finsbury Park Mosque at around 12:20am local time on Monday. Most of those hit were said to have been aiding an elderly man who was already lying on the ground suffering from what is thought to have been cardiac arrest. The elderly man was later declared dead at the scene.
Another man told RT two of his cousins were injured in the incident. Ten people remain in the hospital, two of which are said to be in critical condition.
"My elder brother told me there is a guy driving the van and intentionally try to crush people while they were having their coffee," he said.
LATEST: Follow RT's LIVE UPDATES
"Two of my cousins got injured seriously and they are being taken to hospital. I tried to speak with the police to know about their situation. The police could not confirm… if they… passed away or [had] been taken to hospital."
He added that the suspected attacker, an unidentified 48-year-old man, raised his fist as he went into a police van.
"Sort of in a victory of what the terrorist act that he has done," said the local.
Yet another witness reported that "the guy that was under the van was seriously injured."
He told RT: "Literally, he took the whole load of the van – he got hit on his head."
The man said the victim had been aiding someone already on the ground.
"Because he was standing looking at the guy like this, and the van literally hit him here," he told RT, pointing at his head.
The driver was arrested on suspicion of attempted murder. The Metropolitan Police said the case is "being treated as a terrorist attack."
You can share this story on social media: