2 London Tube lines suspend service over Grenfell Tower debris risk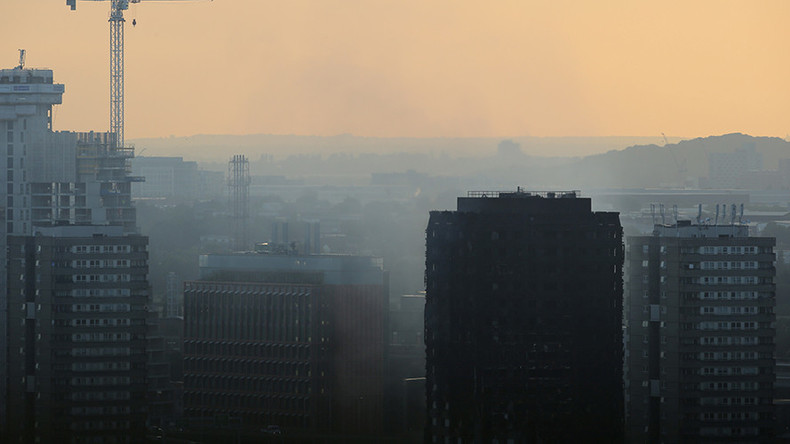 Transport for London has suspended service in two Underground lines in the western part of the capital amid concerns over the safety of the Grenfell Tower, which was badly damaged in a massive fire.
As of Saturday afternoon, service on the Circle and Hammersmith and City lines has been suspended, according to the Transport for London (TfL) website.
READ MORE: 'We want justice!' Grenfell Tower fire protesters storm Kensington Town Hall
The Circle Line is now closed "due to planned engineering work and the recent fire in the Latimer Road area," the TfL said.
"The Brigade advised that a section of track be temporarily closed due to the short term risk of some debris from the tower falling onto the track," a London Fire Brigade spokeswoman said, as cited by Reuters.
"Specialist urban search and rescue teams are currently securing loose debris right now so the station can open again," she added.
Additionally, there is no Tube service between Edgware Road and Hammersmith "due to the recent fire in the Latimer Road area." Tickets for both lines will still be valid on local buses.
No service between Edgware Road and Hammersmith due to the recent fire in the Latimer Road area.

— Circle line (@circleline) June 17, 2017
A TfL spokesperson said the agency suspended Tube service between the stops at 11:20am local time at the request of the London Fire Brigade, Daily Mail reported.
The spokesperson failed to announce when service will resume, saying, "We would always act on the request on the emergency services, be it police or the fire brigade."
The Grenfell Tower was completely engulfed in a huge blaze that broke out on Tuesday night. At least 45 fire engines and over 200 firefighters and officers were deployed to the scene, the London Fire Brigade said. According to the London Ambulance Service, at least 50 patients were taken to hospital.
READ MORE: 30 now confirmed dead in London tower fire – police
At the moment, 30 people are known to have died in the fire, but the death toll is expected to rise significantly. On Friday, Metropolitan Police Commander Start Cundy said he hoped the number would not reach "triple figures."
Police added that the identity of some of the victims may never be confirmed due to the scale of the inferno. In the meantime, fire authorities have admitted they do not expect to find any survivors in the tower, which has been burnt out completely.
Social media posts suggest that people were trapped inside with no hope of survival. According to revelations that have appeared in the media, the building's residents had long warned the authorities about safety issues, but to no avail.