Theresa May's badly timed Mexican wave overshadows Brexit & terrorism talks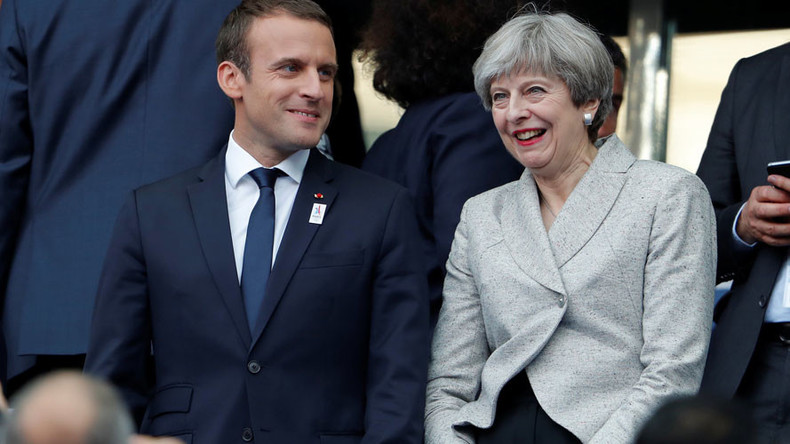 British Prime Minister Theresa May was caught on camera awkwardly joining in a 'Mexican wave' during a France-England friendly in Paris.
May was visiting the French capital for her first meeting with President Emmanuel Macron, following her disastrous performance in last week's general election.
The "badly timed" wave was one of a series of gaffes and embarrassing moments on the PM's short visit, which also included her speech notes flying off half way through a state address and several affectionate looking photos of the two state leaders.
"Hands up if you regret calling a snap General Election," Labour MP David Lammy wrote as a caption alongside a picture of May's awkward Mexican wave.
"So what mood should we go for to show the strength of the French-UK relationship?"

"Engagement picture?"

"Yeah, engagement picture" pic.twitter.com/xcaqKmjChp

— Marie Le Conte (@youngvulgarian) 14 June 2017
French journalist Marie Le Conte poked fun at May and Macron's first photo op, suggesting the two looked as though they were posing for an "engagement picture."
Satire seemed to overshadow the actual nature of the visit, where May announced a new hardline policy for online companies monitoring terrorists and online grooming.
The topic of Brexit was also often skirted throughout the diplomatic visit, with Europhile Macron insisting "the door remains open" for Britain to remain in the EU.
"We have been very clear we want to maintain a close relationship and a close partnership with the EU and individual member states into the future, including in the areas we've discussed this evening," May told reporters.
"I think there is a unity of purpose among people in the United Kingdom. It's a unity of purpose, having voted to leave the EU, that their Government gets on with that and makes a success of it, and we are committed to developing a deep and special partnership with the EU.
"We want the EU to continue to remain strong and we want to continue to cooperate."