Former Hasidic Jew speaks out over custody battle with ultra-Orthodox community (VIDEO)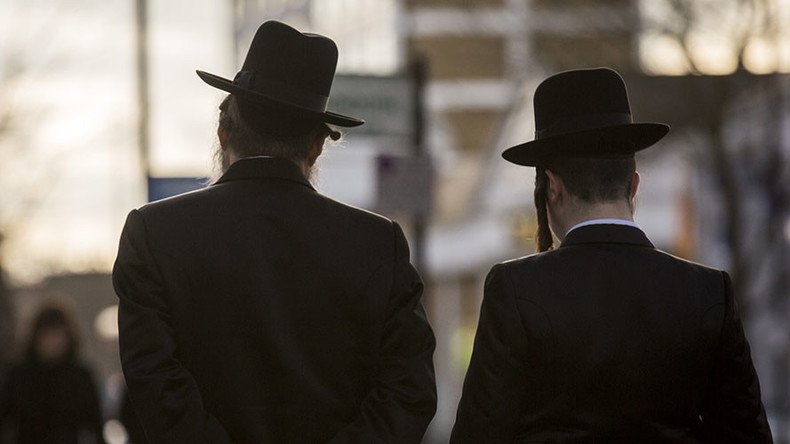 When 'Sarah' left the ultra-Orthodox Jewish faith, she became embroiled in a custody battle over her 11-year-old daughter. Her family still in the community refused her access to the girl for several months, she says.
"It's the most heartbreaking thing to not be able to contact your own child and see if she's okay, to see if she's happy, just nothing – zero contact," she told RT.
"For someone to rip that away from you is the most callous, vile, despicable thing that anyone can do. And when it's actually your own family who have done that … that's unforgivable, and I won't forgive them – never."
'Sarah,' whose real name cannot be disclosed for legal reasons, was part of the 20,000-member Hasidic Jewish community in Stamford Hill, north London. The Haredi, strictly ultra-Orthodox Jews, are one of the most impermeable and tight-knit communities in Britain. They practice a 19th century interpretation of the Jewish faith, which includes arranged marriages, wearing old-style European dress and speaking Yiddish.
After suffering violence at the hands of her now ex-husband, who she married by arrangement, and years of questioning her beliefs, Sarah left the Haredi community. She is now 'Off The Derech' (OTD) – the term used for those who have broken away.
Following a dispute over whether the 11-year-old would attend a Jewish school, Sarah and her relatives agreed the girl would be educated secularly and go to a summer day camp, on the condition Sarah could see her daughter on weekends.
But her relatives did not keep their side of the deal, Sarah says.
"When [my daughter] went to the summer camp… that was the last conversation I had with her for several months. I had no way of contacting her, they totally alienated me from her."
Sarah's family then filed for custody. In court, they made a number of untrue allegations about her, she says.
"I was accused of being a serious alcoholic, I was accused of being a drug addict. I was accused of serious mistreatment, neglect and abuse of my own daughter... For me to be accused of not feeding and not treating my daughter – well, that was just heartbreaking."
Sarah now has custody of her daughter, who visits relatives on Jewish holidays. She believes she has been lucky, as many other OTD parents have been all denied access to their children.
"The number of people who have lost their kids is heartbreaking to a ridiculous extent. Utterly heartbreaking. I've unfortunately seen people who have been driven to suicide over this.
"There are hundreds, if not thousands of parents currently now around the world who have no access to their children – haven't had for many years sometimes – purely because they've left the faith. Not because they are a bad father or mother."
Last year, the Stamford Hill community was fundraising £1 million (US$1.3 million) to finance legal battles in British family courts against parents who want to take their "pure and holy" children into the "evil culture" of secular society.
In a letter distributed throughout the Hasidic community, Ephraim Padwa, head of the Union of Orthodox Hebrew Congregations, wrote: "To our great pain, and our misfortune, our community finds itself in a terrible situation – 17 of our pure and holy children where one of the parents, God rescue them, have gone out into an evil culture, and want to drag their children after them.
"This is a decree of apostasy and this situation has motivated our rabbis who are in Israel… to come here in a personal capacity to increase prayer and to gather money for legal fees, and to achieve this, a convention has been organized of prayer and also to collect money."
Sarah says the fund is used to pay for Britain's "top barristers" to fight legal battles against those who leave the faith. She suspects that money was used to pay for the legal claim against her.
"That money is solely to fight parents who have left the faith and to take their children off them," Sarah says. "That's regardless of whether or not that person is a good parent."
Campaigners say the tactical funding of legal fees unfairly skews child custody battles in favor of those who remain in the faith, not the best interests of the child. Many OTD parents have limited financial resources and are unable to get adequate legal representation.
Sometimes the religious parent is pressured into filing for full custody and even lying in court, so that the OTD parent is seen as being "unfit,"campaigners say.
The Union of Orthodox Hebrew Congregations, reportedly behind the fund, did not reply to RT's requests for comment.
Earlier this year, a transgender parent who left the Charedi community in north Manchester was denied direct contact with her five children on the basis they would be shunned by the ultra-Orthodox sect.
The woman, who brought the case seeking to have contact with the children, has been permitted to send them four letters a year.
You can share this story on social media: