'I'm really pleased we have food banks': Outrage at UK Conservative politician's comments (VIDEO)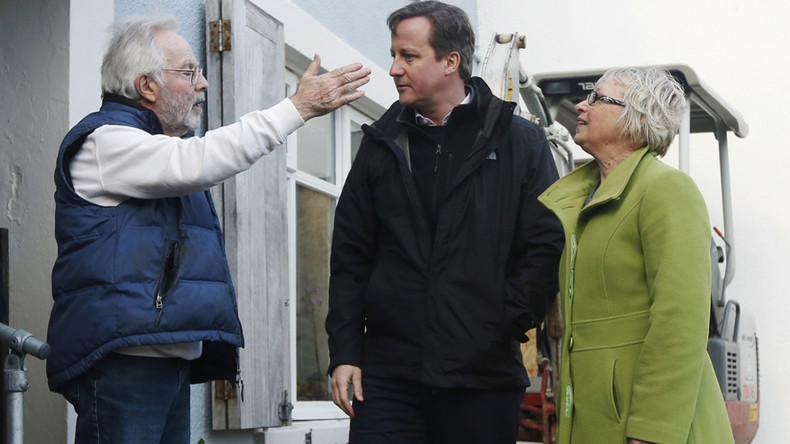 A Conservative Party politician seeking re-election provoked uproar at a hustings in Cornwall when she appeared to praise the existence of food banks in the UK.
Former Conservative MP for South East Cornwall, Sheryll Murray, was attending a meeting for voters in Callington on Saturday when her bid to persuade constituents to back the current Tory government went spectacularly awry.
READ MORE: Farage says calls for internment camps for terrorist suspects could grow in Britain
Attending a gathering at Callington Town Hall, Murray was filmed explaining why she is "really pleased" food banks exist in South East Cornwall, before threatening to call the police when the crowd turned against her.
The incident was caught on camera by Leah Browning, who said she was "utterly appalled" by Murray's performance at a Question Time style public meeting.
"Sometimes people's circumstances change, so if say for instance, somebody had moved house or if their financial situation had changed, or if they're going through the reassessment and their benefits is delayed, then sometimes they need to call upon the food banks," Murray said.
"But I am really pleased we have food banks in South East Cornwall," she added, which appeared to incense some members of the audience.
The Tory candidate's comments led to shouts of anger from segments of the hustings audience, with one man saying: "Society shouldn't need it."
Following the exchange, Murray asked that those opposing her statement be ignored, which led to a woman confronting the former Conservative MP.
"Excuse me. How dare you stand there and think you can ignore me. I'm sitting down now but you are being rude," the woman said.
Murray then asked whether the police could be called after being subjected to swearing from the crowd.
When the situation was eventually brought to order, Murray was able to finish explaining herself.
"I am actually proud of my government because we are addressing the situation. Please remember ladies and gentlemen, when you hear people promising to increase benefits, that there is no magic money tree," she added.
READ MORE: Massive effigy of Theresa May flipping V-sign at Europe erected on White Cliffs of Dover
Murray has represented her Cornwall constituency in Parliament since the 2010 General Election.
The use of food banks in the UK has come under scrutiny since a report by the Trussell Trust in April. The anti-poverty charity stated that the use of their three-day emergency food supplies had increased by more than 70,000 people in a year.