London attackers probably 'radical Islamist terrorists' – UK interior minister
Published time: 4 Jun, 2017 13:20
Edited time: 5 Jun, 2017 07:23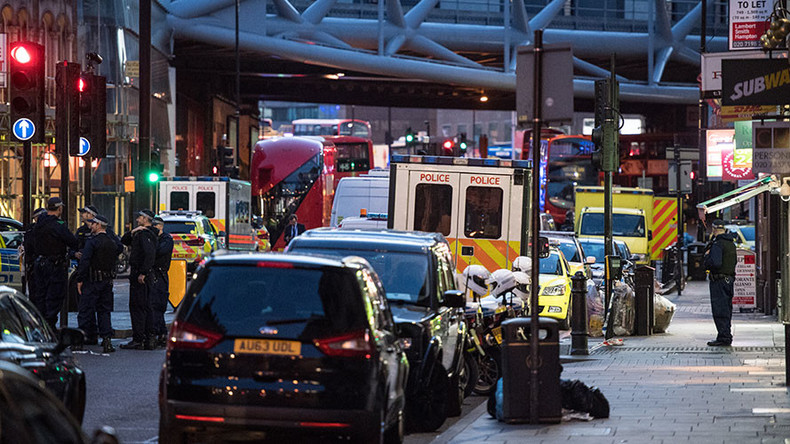 The suspected perpetrators behind the London attacks were probably radical Islamist terrorists, UK Interior Minister Amber Rudd said, while Prime Minister Theresa May stressed that the country has too much tolerance towards extremism and should take action.
READ MORE: 3 attackers shot dead after killing 7, injuring at least 48 in London LIVE UPDATES
"We are confident about the fact that they were radical Islamist terrorists, the way they were inspired, and we need to find out more about where this radicalization came from," Amber Rudd told ITV.
Rudd's comments follow a statement from Theresa May, who said that Britain should take more action to handle extremism in the country.
I have just led a meeting of COBR in response to the appalling London attack and I will soon be making a statement in Downing Street.

— Theresa May (@theresa_may) June 4, 2017
"There is – to be frank – far too much tolerance of extremism in our country," she said after chairing a meeting of the Cobra emergency committee.
READ MORE: 'They stabbed a girl 15 times as she begged for help': How the London Bridge attack unfolded
"So we need to become far more robust in identifying it [extremism] and stamping it out – across the public sector and across society."
The UK should confront extremism, not only by "taking military action to destroy" Islamic State (IS, formerly ISIS/ISIL) in Iraq and Syria, but also by "taking action here at home."
According to May, the world is now experiencing a new trend called "terrorism breeds terrorism."
"Perpetrators are inspired to attack not only on the basis of carefully-constructed plots after years of planning and training – and not even as lone attackers radicalized online – but by copying one another and often using the crudest of means of attack."
These terrorists are bound together "by the single, evil ideology of Islamist extremism that preaches hatred, sows division, and promotes sectarianism," she said, adding that this ideology is essentially a "perversion of Islam and a perversion of the truth."
READ MORE: World leaders slam London attacks as 'heinous' & 'cynical'
Following the assaults, May said that the government should to do more to prevent the spread of radicalism online in order to avoid potential attacks in the future.
"We cannot allow this ideology the safe space it needs to breed. Yet that is precisely what the internet – and the big companies that provide internet-based services – provide," she said, adding that the nature of the threat becomes "more complex, more fragmented, more hidden, especially online."
According to May, when it comes to fighting extremism and terrorism, "things need to change."
"It is time to say enough is enough. Everybody needs to go about their lives as they normally would," she said.
At least seven people were killed and 48 injured after a deadly rampage swept through the British capital on Saturday night, police said, adding that all three terrorist suspects believed to be involved in the attack were shot dead by security forces. Later, police confirmed that they arrested 12 people in connection with the massacre.
No group has claimed responsibility for the attack so far, and it is not clear whether or not the suspects operated on their own, nor if the massacre is linked to the previous assaults in Manchester in May and the one that took place near The Palace of Westminster in March.