World leaders slam London attacks as 'heinous' & 'cynical'
Published time: 4 Jun, 2017 10:47
Edited time: 5 Jun, 2017 07:18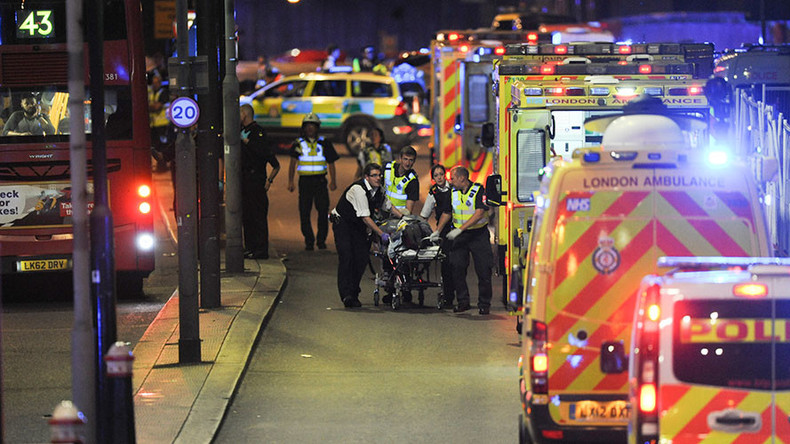 Leaders and high-ranking officials from across the globe have condemned the London attacks that killed at least seven and injured nearly 50. Officials called the tragedy "brutal," "dreadful," and "cowardly."
In a show of support, Russian President Vladimir Putin has sent a letter of condolence to UK Prime Minister Theresa May, according to a statement published on the president's website.
"This crime shocks [us] with its cruelty and cynicism," Putin said, adding that the world should join efforts in the fight against global terrorism.
The president also expressed his condolences to the families of the victims and wished a speedy recovery to all those injured in the attack.
Putin's French counterpart, Emmanuel Macron, reiterated his country's commitment to its long-standing ally.
"In the face of this new tragedy, France is more than ever at Britain's side. My thoughts go out to the victims and their loved ones," he wrote on Twitter.
At least four French citizens were injured in the attack, Jean-Yves Le Drian, minister of Europe and foreign affairs, later said in a statement, as cited by FranceInfo.
German Chancellor Angela Merkel said that she learned about the attacks with "grief and dismay," her spokesman, Steffen Seibert, tweeted.
READ MORE: London Bridge terrorist act: At least 7 killed in vehicle ramming, stabbing attacks
"Today, we are united across all borders in horror and sadness, but equally in determination. I stress for Germany: in the fight against all forms of terrorism, we stand firmly and decisively at Britain's side," Merkel said.
German Interior Minister Thomas de Maiziere also mourned the victims of the attack, saying that his country stands "together in the fight against the Terrorism."
"After a dreadful night in London: all our thoughts are with our British friends and this wonderful, brave city," German Foreign Minister Sigmar Gabriel said.
Belgian Prime Minister Charles Michel also took to Twitter to show support for people in the UK.

"A new tragedy in London, we all stand with UK," he wrote.
Italian Prime Minister Paolo Gentiloni called for a uniting of efforts in the fight against terrorism.
"London is once again under attack. Solidarity with the British Government and [let's] joint efforts against terrorism," he wrote.
Spanish Prime Minister Mariano Rajoy said he is following the information about London attack "with sadness," also expressing his solidarity with the families of the victims in the assaults.
"Our solidarity and support to the authorities and to the British people," he wrote.
European Council President Donald Tusk has called London tragedy "a cowardly attack," while EU Commission President Jean-Claude Juncker wrote that he was monitoring the situation "with horror."
Words of support also came from NATO Secretary-General Jens Stoltenberg, saying his thoughts are "with all those affected by brutal London Bridge attacks."
US President Donald Trump and Vice President Mike Pence also expressed condemnation of the assaults in Twitter posts.
The prime minister of Canada also expressed his condolences, noting that he is monitoring the situation.
Australian authorities, including Prime Minister Malcolm Turnbull and Foreign Minister Julie Bishop, said they have been briefed on the attack and stand firmly with the British people.
Turnbull later confirmed that two Australian citizens were affected by the tragedy, without providing details.
"Shocking and anguishing," is how the Indian prime minister described the attack.
Malaysia slammed the attacks as "heinous acts."
"Escalation of indiscriminate and chain terror attacks around the world is a warning sign for the international community," Iranian Foreign Ministry spokesman Bahram Ghasemi said, condemning the attack.