Net migration falls just as study concludes foreign employees do work harder… at first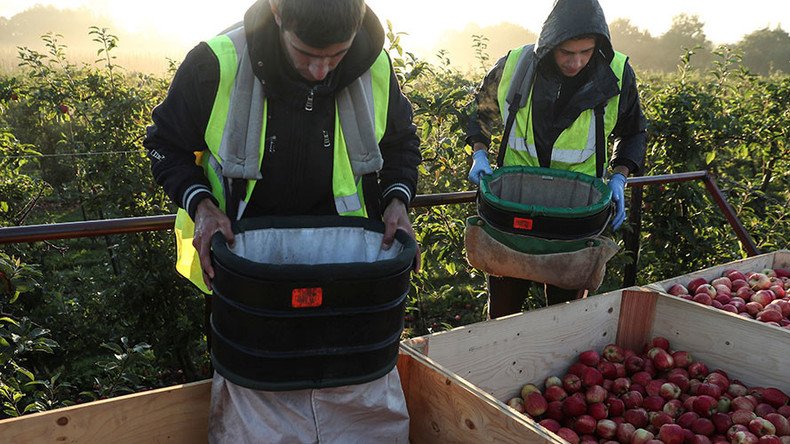 Figures showing net migration dropped to 248,000 in 2016 have been released just as a study concluded that workers from abroad do actually work harder, at least at first.
The Office for National Statistics (ONS) says the drop in net migration of 84,000 was driven by 40,000 people leaving the country, most of them EU citizens.
Net migration is the difference between those leaving and arriving in the UK.
Although the Office for National Statistics (OFS) claimed the exodus is "statistically significant," the figures are still a long way away from the Tory manifesto pledge to bring down net migration to the tens of thousands.
The figures come as new research reveals that EU migrants do have stronger "work ethics" compared to British people, until they pick up the cultural rules of the UK after several years.
The new study of Central and Eastern European Migrants, carried out by the University of Bath's School of Management, reveals that migrant workers are less likely to be absent than their UK counterparts for at least two years, after which migrant absence levels mirror those of UK workers.
According to the study, an underlying reason for the temporary work ethic is that migrant workers become fluent English speakers, they become acquainted with the UK job market and take better paid jobs, meaning they no longer have to prove their competence to employers.
"The study shows that the common view that UK workers are lazy compared to migrant workers is misconceived: in fact migrants are temporarily working extra hard to offset the challenges they face when they first enter the UK job market," Dr Chris Dawson, senior lecturer in business economics, said, according to phys.org.
"We clearly see in the research that migrants new to the UK put in a couple of years of hard work, before a better understanding of our culture and job market means they adopt the same work ethic as native workers."
The research suggests that factors driving migrant workers to adopt a greater work ethic include their feeling of having to compensate for limited language skills, as well as employers' lack of understanding of foreign qualifications.
Migrant workers may, however, also perceive salaries in the UK as high compared to other countries, meaning they work harder to earn it.
The new OFS immigration figures, which include the month of the EU referendum, reveal the total number of people moving to the UK was made up of 264,000 non-EU citizens, while EU citizens accounted for 250,000, and British citizens for 74,000.
You can share this story on social media: