#BritishThreatLevels: Brits respond with humor to rise in official terrorism warning
Published time: 24 May, 2017 15:17
Edited time: 25 May, 2017 12:59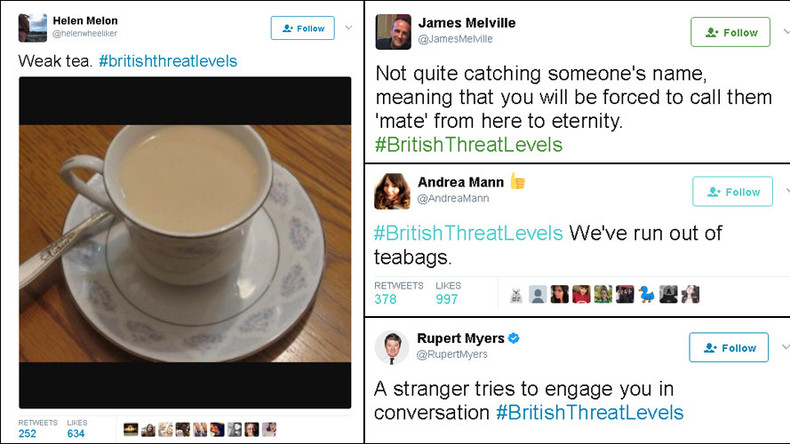 The hashtag #BritishThreatLevels has taken off as people in the UK respond with humor to warnings of an imminent terrorist attack.
Following the announcement that the official terrorist threat rating would be raised to the highest level, Twitter celebrity Nick Motown decided not to take it too seriously.

"We're British. You can't scare us until you raise the threat level to 'I'm sorry, but there's only continental breakfast left,'" Motown posted to his 23,500 Twitter followers.

The gag was quickly picked up by other punters, including the head of money transfer service World First, Jeremy Cook.

"We're British. I don't get scared until the threat level hits 'Replacement Bus Service,'" Cook wrote.
In under two hours the hashtag #BritishThreatLevels was trending, with Brits jesting about the kinds of things that would actually scare them.
"We've run out of teabags," wrote the hashtag's creator, Andrea Mann, joking about the nation's favorite beverage.
"The temperature goes below 5°C or above 20°C," said Ross Lawson, mocking the well-known British obsession with the weather.
People across the internet loved the comic relief, with many praising stoic Brits for confronting terrorism with laughter.
omg I legit clicked on #BritishThreatLevels thinking it was a serious trend but its sooooo funny LOOOL. Love British people.

— Miss Malik. (@nimramalik) May 24, 2017
I was worried when I saw #BritishThreatLevels trending. Now I'm having a great laugh with my coffee. The British are so funny.

— Rose #TheResistance (@Luv_4Dogs) May 24, 2017
"I love the #britishthreatlevels hashtag. it's laughing in the face of danger, and it's making me strangely proud," said California-based British journalist Nicky Woolf.
"If you want to understand how Brits respond to terror, #BritishThreatLevels is how," wrote Canadian commentator Lauren Dobson-Hughes.
Harsher police measures were introduced as a precaution after Monday's bombing at the Manchester Arena concert venue, which took the lives of 22 people, including several minors.