Ecuador asks UK PM Theresa May to give Assange safe passage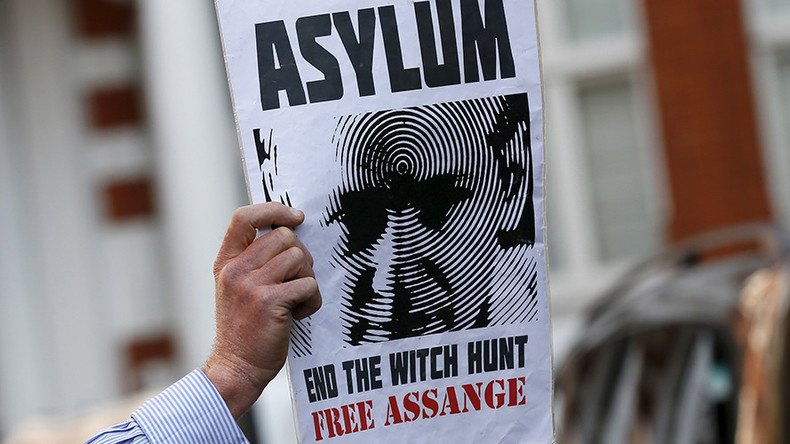 Ecuador's government has asked Britain to give WikiLeaks founder Julian Assange safe passage to the South American country to allow him asylum there.
A source close to the case at the Ecuadorian foreign ministry told the Press Association: "Given that the European arrest warrant no longer holds, Ecuador will now be intensifying its diplomatic efforts with the UK so that Julian Assange can gain safe passage in order to enjoy his asylum in Ecuador."
The source added Ecuador "welcomes the decision" to drop the charges against Assange.
"This decision follows the interview of Julian Assange in Ecuador's embassy in London in November 2016. Ecuador regrets that the Swedish prosecutor delayed more than four years in carrying out this interview."
It comes after prime minister Theresa May said any decision about WikiLeaks founder Julian Assange's arrest or otherwise is an "operational matter" for police.
Asked if she would support the UK extraditing Assange to the US, May said: "We look at extradition requests when we receive them on a case-by-case basis.
"And in relation to Julian Assange, any decision that is taken about UK action in relation to him were he to leave the Ecuadorian embassy would be an operational matter for police."
Her comments come as WikiLeaks called on the British government to "confirm or deny" whether Assange would be extradited after a rape investigation against him in Sweden was dropped on Friday.
"The UK has refused to confirm or deny whether it has already received a US extradition warrant for Julian Assange. Focus now moves to the UK," WikiLeaks tweeted.
Assange reacted to the news by tweeting a photo of himself smiling inside the Ecuadorian Embassy where he has been living for almost five years. He sought asylum there over fears the Swedish investigation would result in him being extradited to the US over leaked military documents and diplomatic cables.
A public demonstration calling for Assange to be freed immediately will be held outside the Ecuadorian Embassy in London from 2pm local time on Friday.
"Now that this investigation has been dropped it is only correct that the British government allow Julian Assange to leave the Embassy of Ecuador and travel freely to a destination of his choosing," organizers wrote on social media.
Sweden's director of public prosecutions, Marianne Ny, filed a request to the Stockholm District Court to revoke his arrest warrant, ending a seven-year stand-off.
Assange, 45, has always denied the rape allegations made against him. He claimed the allegations against him were part of a plot to see him extradited to the US over his involvement with WikiLeaks.
Following Friday's announcement, the Metropolitan Police swiftly confirmed it would still arrest the Australian over skipping bail in 2012 when he sought asylum.
"Westminster Magistrates' Court issued a warrant for the arrest of Julian Assange following him failing to surrender to the court on the 29 June 2012. The Metropolitan Police Service is obliged to execute that warrant should he leave the Embassy," it said in a statement.
"Whilst Mr Assange was wanted on a European Arrest Warrant (EAW) for an extremely serious offence, the [Met Police] response reflected the serious nature of that crime.
"Now that the situation has changed and the Swedish authorities have discontinued their investigation into that matter, Assange remains wanted for a much less serious offence.
"[The Met Police] will provide a level of resourcing which is proportionate to that offence … [and] will not comment further on the operational plan."
It remains unclear how the development will affect Assange's risk of being extradited to the US if he leaves the embassy and is arrested.
A defense lawyer acting for Assange, Per E. Samuelsson, told Swedish Radio the decision to drop the rape charges is "a total victory for us."
"He is now free to leave the embassy when he wants. We have won the Assange case. He is of course happy and relieved. He has been critical that it lasted that long."
You can share this story on social media: