'No deal better than bad deal': Theresa May manifesto commits Tory MPs to 'hard Brexit'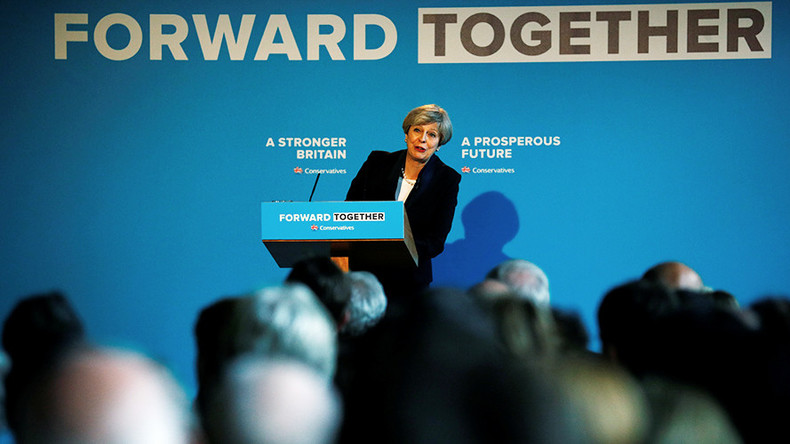 Prime Minister Theresa May has effectively committed Tory MPs to backing her 'hard Brexit' stance of 'no deal is better than a bad deal' by enshrining it in the party's manifesto, released on Thursday.
May bound her Conservative MPs to support a so-called hard Brexit by saying they would all be elected on the manifesto pledge that crashing out of the European Union without any deal would be better than leaving with a bad one.
"The negotiations will undoubtedly be tough, and there will be give and take on both sides, but we continue to believe that no deal is better than a bad deal for the UK," the manifesto reads.
May would therefore allow the UK to withdraw from the single market and customs union, as well as "reducing and controlling" EU migration, whatever the cost.
The manifesto pledge will anger pro-Europe Tory MPs, who had hoped to convince May to rethink her hard Brexit stance, which they deem reckless.
Binding her MPs to the pledge could be an attempt to quell rebels in the House of Commons seeking to influence negotiations. This would free up May's negotiating hand.
Pro-Europe Tory MPs would find it harder to join fellow Europhiles in the Labour Party, Liberal Democrats and Scottish National Party (SNP) to form cross-party, anti-Brexit coalitions.
The manifesto, however, makes clear that May would enter negotiations with a "spirit of sincere co-operation," with the aim of striking a favorable deal for Britain.
May said she agrees with EU leaders that Britain could not be "half in and half out."
She has toughened her stance on Brexit, claiming her party is being targeted by EU leaders seeking to undermine her leadership.
"Threats against Britain have been issued by European politicians and officials," May said in April.
"All of these acts have been deliberately timed to affect the result of the UK general election that will take place on the 8th of June."