'Milk snatcher' returns? May accused of channeling Thatcher with plan to scrap free school lunches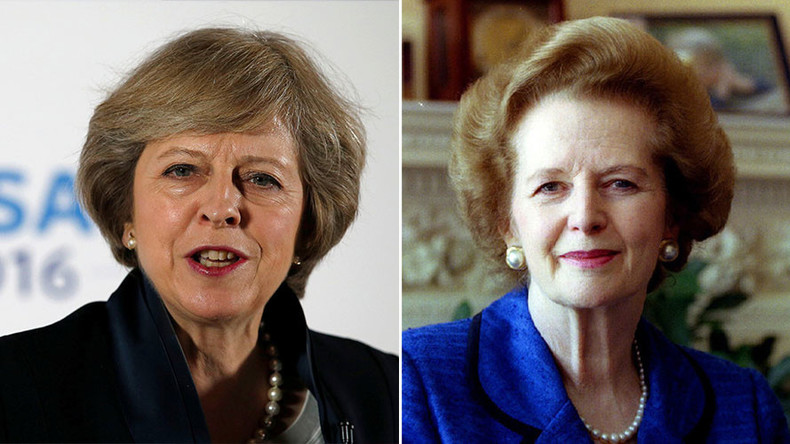 Prime Minister Theresa May has been dubbed the "lunch snatcher" over Tory plans to scrap free school meals in a reference to the "milk snatcher" jibe aimed at former UK leader Margaret Thatcher.
Under plans unveiled in the Conservative Party manifesto on Thursday, universal free school lunches for infant pupils in England will be stopped and replaced with free breakfasts across the primary years.
The current system provides all children in the first three years of school – aged five to seven – with a hot meal at lunchtime. The Tories say scrapping the policy will save £650 million (about US$850 million) that can be re-injected into school budgets.
The Tories say children from poorer families will still get free hot lunches – as well as breakfasts – throughout their education.
The free school meal policy was a flagship Liberal Democrat policy during their time in coalition with the Tories in 2010-15. The party's education spokesperson, Sarah Olney, condemned the decision to scrap it.
"Margaret Thatcher was known as the 'milk snatcher.' Theresa May will go down in history as the lunch snatcher. Children under Theresa May will go hungry: it is that stark, and that heartless. But she just doesn't care."
Nick Clegg, formerly the deputy prime minister in the coalition, is "furious" that the policy he announced in 2013 has been scrapped, according to the Telegraph.
"Free infant lunches policy was saving millions of struggling families over £450. Breakfast covers fewer children. Cheaper for govt. Cynical," Clegg tweeted.
"4 in 10 kids who DIDN'T receive free lunches prior to infant provision were officially in poverty. So much for compassionate Conservatives."
The lunch to breakfast switch would provide the bulk of a promised £1 billion cash injection for education, at a time when schools are facing huge cuts and laying off teachers.
The Tories, however, were only able to say that the £1 billion-a-year extra funding would prevent any school losing out "in cash terms." That means some schools could still be worse off after inflation.
Both Labour and the Lib Dems have pledged to extend free school meals to all primary school children.
Following the Tory manifesto launch, other parallels are being drawn between May and Thatcher.
The Conservatives kicked off the launch on Thursday with the slogan "Forward Together." Thatcher also used the phrase to sign a letter, and it was a key campaign slogan for the party when she was in power.