'Filthy' air pollution is killing more Brits per 100,000 than in US & South America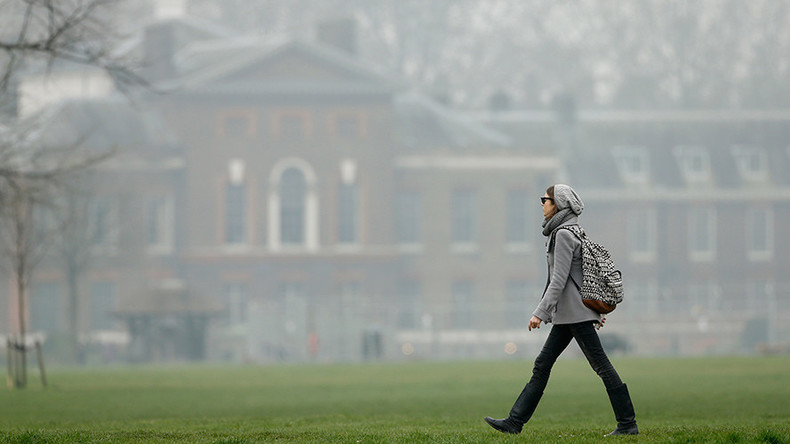 The number of deaths caused by air pollution in Britain is higher than that in Mexico, Argentina, and Brazil, and double the rate in the United States, according to the World Health Organization (WHO).
According to the WHO's 2017 report, pollution caused 25.7 deaths per 100,000 people in Britain, the 15th worst rate in Europe and twice as high as Sweden, which topped the list of the cleanest countries in the world.
By comparison, pollution was responsible for 23.5 deaths in Mexico per 100,000, and 15.8 in Brazil and 24.6 in Argentina. In the US, the amount of deaths was half the amount at 12.1.
"Air pollution is a public health crisis hitting our most vulnerable the hardest — our children, people with a lung condition and the elderly," said Penny Woods, chief executive of the British Lung Foundation, according to the Times.
The figures follow recent reports that up to 40 million people live in areas of the UK where unlawful pollution levels caused by diesel cars put their health at risk.
According to analysis commissioned by the Labour Party, 59 percent of Britons live in places where nitrogen dioxide (NO2) is in breach of the lawful level of 40 micrograms per cubic meter of air.
Britain was given a final warning by the European Commission in February over its failure to implement air quality plans as the legal levels of pollution were repeatedly breached in 16 areas including London, Glasgow, and Leeds.
The UK government was warned by the High Court in 2015 that it must take immediate action, as the country's NO2 levels breached Europe's lawful limits.
Environmental campaign group ClientEarth sent the case back to court in November of last year saying the government had yet again failed to implement adequate plans to deal with illegal levels of pollution.
The court ruled in ClientEarth's favor, branding the government's proposals "woefully inadequate."
The government was ordered to draft up new plans by the end of last month, but ministers asked for the deadline to be extended until after general election on June 8.
Labour's London Mayor Sadiq Khan hit out at the government for failing to submit new proposals to tackle the staggering levels of pollution, accusing it of using the election period as a cover for its "incompetence."
"I am deeply disappointed that ministers have missed a golden opportunity to show real leadership and urgently introduce new plans to deal with our filthy air," he said.
"This could have been done well before the pre-election period started had the government treated this as a priority as I do," he said, according to the Guardian.
"Instead they have used the general and local elections as a smokescreen to hide their incompetence as they seek to extend the court-ordered deadline for publishing their draft plan."
You can share this story on social media: