No contraband, please: Anti-drone 'force field' installed at island prison in world first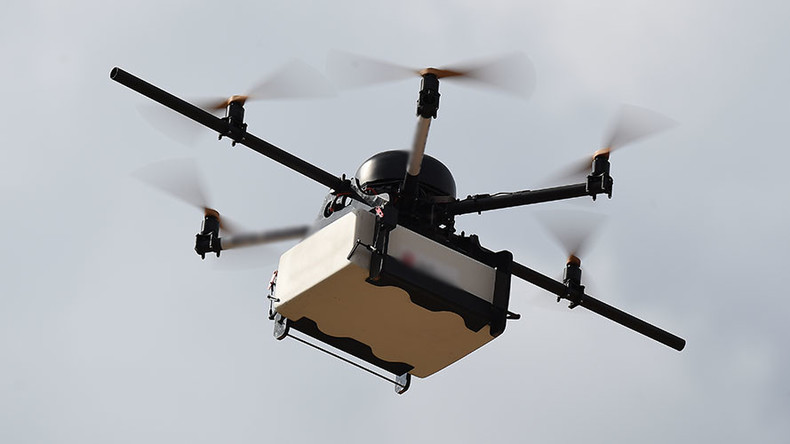 Les Nicolles prison on the island state of Guernsey, a British Crown dependency off northern France, is the first in the world to construct a disruptor field to repel drones delivering contraband to inmates.
The aptly named Sky Fence will consist of roughly 20 disruptors which will generate an invisible barrier that stretches 2,000ft (600m) into the sky, blocking the radio frequencies used to control aerial drones.
"This is the first time this technology has been used in any prison anywhere in the world," prison governor David Matthews said, as cited by the Telegraph.
"I would like to see it adopted in other UK prisons because it has become a significant problem there. Drones can carry weapons, contraband, mobile phones and drugs. This is about prevention," he added.
READ MORE: 'Our jails are in real chaos': Anti-drone squad formed to stop drugs entering UK prisons by air
The drone operator's screen will reportedly turn black and the drone will return to its nearby point of origin.
The technology was developed by two British companies, Drone Defence and Eclipse Digital Solutions.
"It disrupts the control network between the flyer and the drone. The drone then activates return to home mode and it will then fly back to the position where it had signal with its flyer," Richard Gill, Drone Defence founder and CEO, told the Telegraph.
"Someone described it as the final piece in a prison's security puzzle. I think it could have a significant worldwide impact," he added.
Gill emphasized that the disruptor system does not hack or damage drones, but merely returns them to sender.
Guernsey Prison the first place in the world to use anti-drone fence. Hacks its frequency, halts it and sends it back to where it came from. pic.twitter.com/Ldy5kIqDqW

— Mike Wilkins (@MrMikeWilkins) May 12, 2017
The Sky Fence system costs between £100,000 ($129,600) and £250,000 ($324,000), depending on the size of the prison.
Guernsey's mixed category prison, which holds both male and female prisoners, young offenders and adults alike, is investing in the technology as part of its £1.7 million security upgrade. It can currently house a prison population of 139.
"Here we have Guernsey leading the way in the world," Guernsey's Home Affairs president Deputy Mary Lowe said of the Sky Fence system, which is due to be completed in June.

You can share this story on social media: