'Our jails are in real chaos': Anti-drone squad formed to stop drugs entering UK prisons by air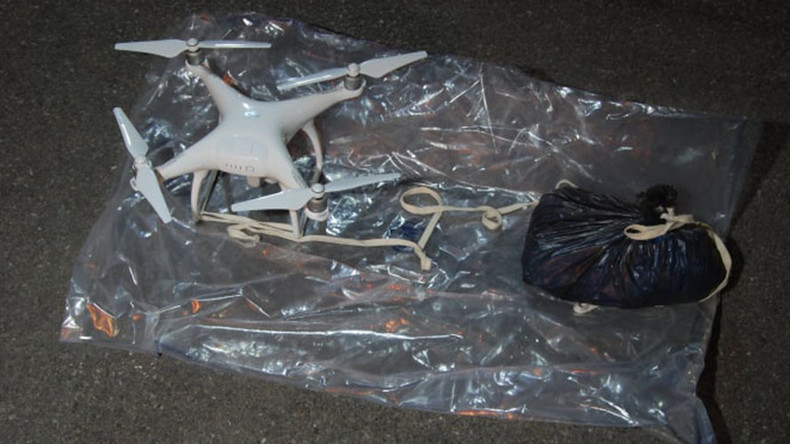 A specialist unit has been formed in the UK to combat the increase of remote-controlled drones being used to smuggle contraband such as drugs and mobile phones into prisons.
The Ministry of Justice announced the formation of the specialized unit on Monday. According to the ministry, there has been a sharp increase in the number of incidents involving the use of drones flying drugs and mobile phones into prisons in recent years.
Statistics show there were 33 incidents of drones being detected in or around jails in England and Wales in 2015, compared to just two the previous year and none in 2013. Items recovered from the rogue drones include drugs, mobile phones and USB drives.
This new team of investigators will work closely with national law enforcement agencies and HM Prison and Probation Service to inspect drones discovered in prisons in a bid to track down those behind the remote control.
The announcement comes three weeks after two men were jailed for a combined period of over ten years for attempting to smuggle drugs worth around £48,000 ($60,400) into a number of prisons in Hertfordshire, Suffolk and Kent.
Speaking about the new unit, Prisons Minister Sam Gyimah said: "We are absolutely determined to tackle the illegal flow of drugs and mobile phones into our prisons and turn them into places of safety and reform."
"My message to those who involve themselves in this type of criminal activity is clear; we will find you and put you behind bars," he added.
However, not everyone is convinced by the new strategy.
Speaking to BBC Radio 4's Today programme, the Prison Officers Association National Chairman Mike Rolfe described the new initiative as "a red herring because there are lots of problems in prisons and this seems like a very small publicity stunt to try and detract from the real issue and that's that our jails are in complete chaos."
READ MORE: Weaponized civilian drones a 'tangible reality' – US officials
You can share this story on social media: