Weaponized civilian drones a 'tangible reality' – US officials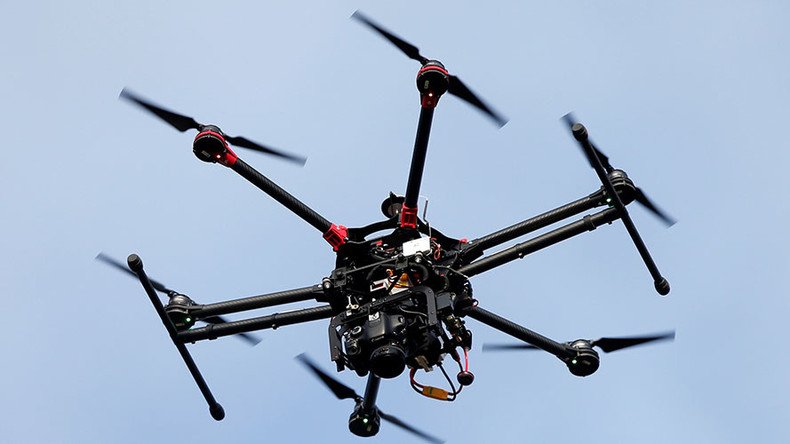 US officials and security teams are staying awake at night worried that potential terrorists might be weaponizing civilian drones with explosives, the way Islamic State (IS, formerly ISIS/ISIL) has done in Iraq and Syria.
"Small UAS [drones] with a small payload, that can be absolutely deadly," Mark Lilly, a civilian employee of the US Air Force and an expert in security threats told an audience at a security conference in Washington, DC on Wednesday, according to Bloomberg.
The use of small drones as weapons has already been used by terrorist groups in the Middle East, raising concerns that homegrown extremists could do the same in the US.
"They are doing all sorts of innovative and experimental things," said John Mulligan, deputy director of the US National Counterterrorism Center. "We've seen them using them in surveillance. We've seen them using them in weapons delivery. We can rest assured that they will continue to fine-tune their capabilities in this regard."
Lilly and Mulligan were speaking at a conference sponsored by the Air Line Pilots Association (ALPA), a union representing about 55,000 pilots in North America.
Experts said just small amounts of explosive compounds can be easily attached to the millions of small commercial drones already sold in the US.
"Anyone who has ever seen or worked with C-4 knows it doesn't take much against a high-value target, be it a civil 747 or 757 full of passengers or even on the ramp flying into the intake of an engine and exploding it," Lilly said, referring to a common military plastic explosive.
The Federal Aviation Administration requires hobbyists to register their drones, while Homeland Security (DHS) and other US agencies can disable them if they come to close to sensitive sites or airports.
For years, the threat of weaponized civilian drones was viewed as theoretical. Last October, however, Reuters reported on ISIS fighters using drones to drop bombs on US-backed Iraqi forces in Mosul.
In February, the Iraqi army shot down an ISIS drone armed with grenades near Mosul. According to Arstechnica, the drone was armed with a pair of 40-millimeter grenades. The drone reportedly bore the logo of a Chinese technology company in the civilian-drone industry called DJI.
"Now it is a tangible reality," said William Hewitt, chief of the UAS Threat Integration Cell at the DHS.
In a related story, a bill was introduced by Oklahoma lawmakers earlier in March that would let property owners destroy drones by removing a civil liability. The bill was in response to property owners are increasingly taking matters into their own hands when drones get too close and personal.
Oklahoma lawmaker Ralph Shortey's bill would exempt property owners from civil action if they destroy drones not regulated by the Federal Aviation Authority. The measure falls short of describing how a property owner could take down a drone but recent events show they are usually shot at.
You can share this story on social media: