Samurai swords, guns & knives seized from schoolchildren as young as 5
Published time: 12 May, 2017 10:33
Edited time: 13 May, 2017 11:38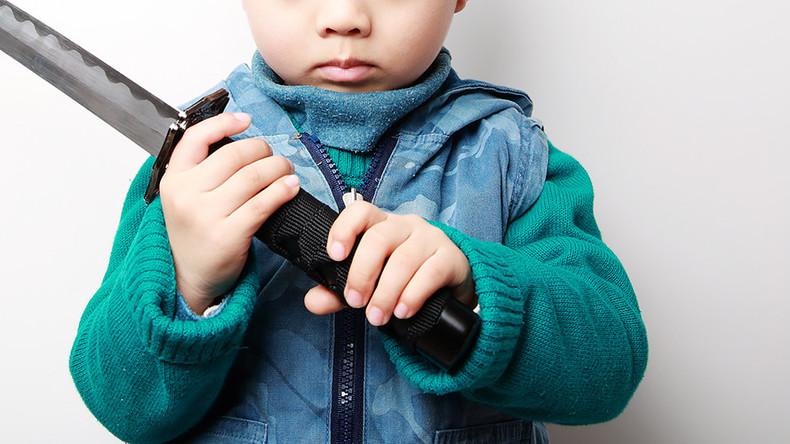 Thousands of weapons, including samurai swords, axes and guns, have been seized from UK schoolchildren in less than two years, figures released under a freedom of information (FOI) request show.
According to the chilling data obtained by the Press Association, 32 of the 43 police forces in England and Wales found arms being confiscated from children as young as five.
There were 2,579 weapons seized in 18 months to March 2017, with 1,369 found between April 2016 and the beginning of 2017 alone – an increase of almost 20 percent on the previous year.
The figures are thought to be far higher, as some police forces failed to respond to the FOI, while others provided incomplete data.
Of the arms seized from schoolchildren in Britain, nearly one-fifth were knives, according to the 24 forces that released details on this type of weapon.
Police also found a "worrying increase" in the number of children carrying weapons to school, with at least 47 pupils aged under 10 – the criminal age of responsibility.
These included three five-year-olds, one of whom was caught wielding a knife, while another was found carrying a "missile" – the classification for a brick or rock.
In response to the findings, police officials said they are already working with schools to educate children on the potential consequences of carrying knives.
Chief Constable Alf Hitchcock, the National Police Chiefs Council lead for knife crime, said: "Schools should be free of weapons and all children should be able to learn without fear or violence.
"We have recently seen an increase in young people carrying knives and this is worrying.
"We are responding to this trend by targeting those who carry them illegally and working with retailers to reduce the sale of knives to underage people through nationally coordinated operations," Hitchcock said, according to the Guardian.
Other less typical weapons were also seized, including a police baton, a rolling pin, a can of beer and a 15in metal rod.
The issue has been of particular concern in London, where the number of children carrying weapons to school has doubled in the past five years, according to figures released by the Metropolitan Police in March.
Met Police Commissioner Cressida Dick last month said knife crime on school precincts is of "huge concern."
Police last week called for more London schools to install metal detectors. The call came amid an epidemic of knife murders across the capital, in which 17 under-25s have died this year alone – 11 of them in the last fortnight.
Geoff Barton, general secretary of the Association of School and College Leaders, said: "Schools work closely with the police to protect and educate their pupils, and in some cases police officers are stationed in schools.
"Where appropriate, schools conduct searches and use metal detectors, and they implement robust disciplinary procedures against anyone found in possession of a weapon," Barton said, according to the BBC.