EU Brexit negotiator Verhofstadt trolls Theresa May over 'strong & stable' leadership
Published time: 2 May, 2017 10:21
Edited time: 3 May, 2017 09:45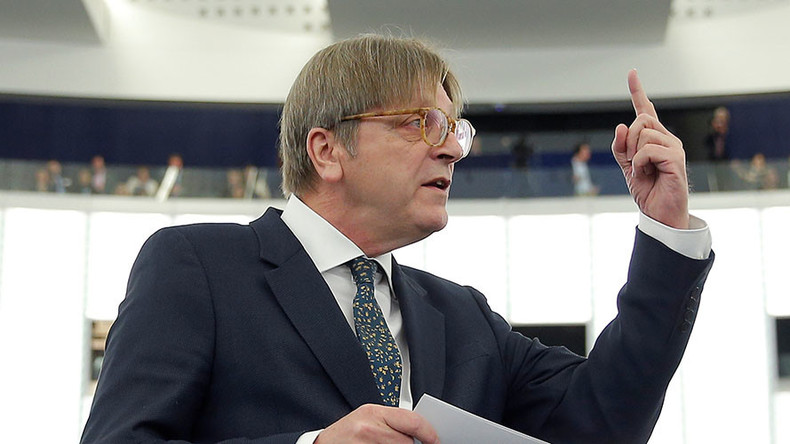 Guy Verhofstadt, the EU's lead Brexit negotiator, appears to be trolling UK Prime Minister Theresa May on Twitter over her "strong and stable" leadership after a disastrous Downing Street dinner.
May has been mocked in recent days for repeatedly using the phrase "strong and stable leadership" while on the election campaign trail.
Now Verhofstadt has got in on the joke, tweeting: "Any Brexit deal requires a strong & stable understanding of the complex issues involved. The clock is ticking – it's time to get real."
Any #Brexit deal requires a strong & stable understanding of the complex issues involved.The clock is ticking - it's time to get real.

— Guy Verhofstadt (@GuyVerhofstadt) May 1, 2017
This comes after Jean-Claude Juncker, the president of the European Commission (EC), reportedly leaked details of "clashes" during a Downing Street dinner with May.
Juncker said he left the meeting "10 times more skeptical than I was before" and called German Chancellor Angela Merkel the next day to warn her that May's approach was "deluded" and from a "different galaxy."
According to German newspaper Frankfurter Allgemeine, the pair came to loggerheads over May's desire to make Brexit "a success," to which Juncker reportedly said: "Brexit cannot be a success."
Juncker was also reportedly shocked at May's suggestion that a deal on citizens' rights could be achieved so quickly.
The newspaper also reported that Juncker said there would be no trade deal between the UK and the rest of the EU if Britain fails to pay its divorce bill. When May said the UK owes no money to the EU, the EC president informed her that she was not leaving a "golf club."
May dismissed reports she "clashed" with Juncker as "Brussels gossip," saying the talks were "constructive" and telling the BBC: "I have to say from what I've seen of this account I think it's Brussels gossip."
Home Secretary Amber Rudd has also hit back at the claims, calling the reports "tittle-tattle." She sought to play down the significance of the leaks, but appeared to blame EU teams for making the talks public.
"We are not going to comment on leaks like this – they may or may not be true, elements of it," Rudd told ITV.
"But the fact there is going to be nearly two years of this type of negotiation going on and I think it would be a mistake for the government to leap on and back on any sort of tittle-tattle that comes out."
Denying that she was "rattled" by the reports, Rudd took a swipe at those responsible for briefing the press: "We can be relied upon to keep gossip out of the press."
Downing Street has said it will not enter into a "briefing war" with the EU amid further reports of concerns among EU officials.
MEP and former UKIP leader Nigel Farage has also weighed in on the spat. Speaking on his LBC radio show, he branded Juncker "dishonorable."
"One thing that we learn from this is that no negotiations with these people will ever take place in secret.
"We're not dealing frankly with honorable people. They are not prepared to play this with a straight bat."
He warned May that anything said in private during Brexit talks would be "leaked out" because those stuck in Brussels are "stuck in this mentality that says what whatever happens they mustn't be nice to the Brits."

"History tells us when they're rude about us it makes us even more determined," he added.