Is Theresa May hiding from voters on election trail?
Published time: 28 Apr, 2017 15:58
Edited time: 29 Apr, 2017 19:14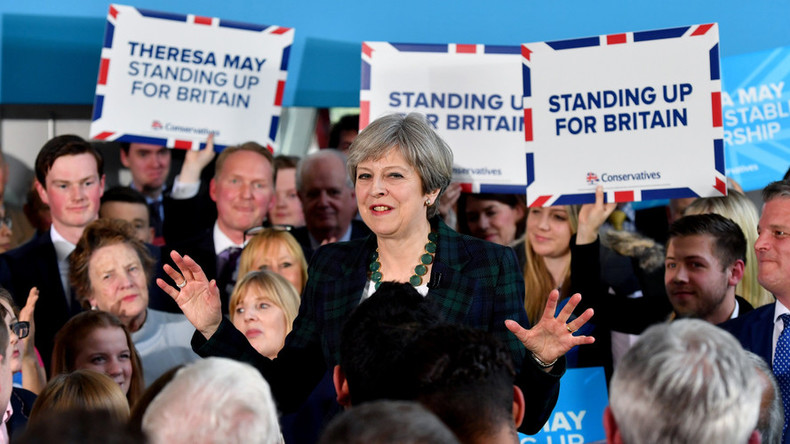 Prime Minister Theresa May has been accused of hiding from the public eye after staff at one venue on the election campaign trail claimed only hand-picked Conservative Party loyalists were invited to her rally.
Staff at the venue in Leeds said that despite having an opportunity to reach out to the diverse, working class community, May opted to host a "congregation" of "hand-picked" loyalists.
May has also repeatedly refused to take part in televised debates despite calls to do so from opponents and allies.
Staff at the Shine community regeneration project, which hosted May, told the Guardian her rally had been very much behind closed doors.
"I found this deeply disappointing. I had no plans to vote for Mrs May but I'm well aware of the positive effect that seeing a speech in person from such a powerful, motivated public figure can have," one staff member said.
"I had a similar opportunity with both David Cameron and Gordon Brown when I worked in radio and it was very inspiring."
Locals were not invited to the event and the area, Harehills in central Leeds, was "not represented or addressed," he said.
"I'm disappointed that Mrs May's visit has been portrayed as some noble deed, rather than a self-serving campaign stop – but then that's what elections are about, I guess," the staff member added.
At another appearance in Derby, May appeared to forget the name of the town she was in during a tour of a deserted-looking factory.
The gaffe has been satirized by opponents, who portrayed the PM as "Kim Jong May" in a video splicing together the Tory leader's tour of the factory floor with footage of an adulating North Korean news caster.
Labour leader Jeremy Corbyn, a lifetime street campaigner who appears at ease when attending rallies, has accused May of "showing contempt for the public."