'No plans to strike Assad': May calls Johnson's Syria airstrike comments 'hypothetical'
Published time: 28 Apr, 2017 11:12
Edited time: 29 Apr, 2017 19:11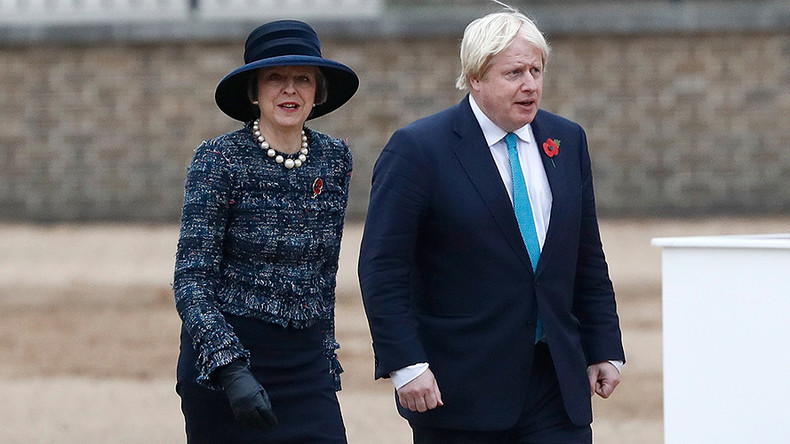 Prime Minister Theresa May has talked down Foreign Secretary Boris Johnson's suggestion the UK could start bombing Syrian government targets without first securing a vote in Parliament.
Johnson told the BBC on Thursday that if the US wanted to a carry out further strikes on forces loyal to Syrian President Bashar Assad, such as its bombing of an airbase in the wake of a deadly chemical incident in April, the UK would find it hard to resist joining in.
The foreign secretary also suggested there would not be a parliamentary vote on the decision because it solely rested with the prime minister.
The UK is currently hitting Islamic State (IS, formerly ISIS/ISIL) targets in Syria, thanks to a House of Commons vote held in December 2015. A 2013 vote to target Assad's forces in response to an earlier alleged chemical attack failed to pass.
However, speaking at a rally in Leeds on Thursday, May said Johnson's comments were only "hypothetical" and that "there is no proposal on the table for further strikes in Syria."
May said it is important to find a "political transition away from President Assad."
The PM was only the latest political figure to dismiss Johnson's comments. Scottish National Party (SNP) foreign affairs spokesman Alex Salmond branded the foreign secretary "a mini-me of President Trump."
Shadow Foreign Secretary Emily Thornberry told the BBC Johnson is "delusional."
In his comments on Thursday, Johnson also called Labour leader Jeremy Corbyn a "mugwump" and said he was not up to scratch on defense and foreign affairs, lacking the ability to deal with heavyweight issues like IS, Russia and North Korea.
The term 'mugwump' traditionally refers to someone who is politically aloof, and stands apart from party politics."He seems to have no grasp of the need for this country to be strong in the world," Johnson told the BBC at the time.