#Rapeclause: Abuse survivors must do extra paperwork to claim benefits for 'non-consensual' children
Published time: 6 Apr, 2017 15:24
Edited time: 7 Apr, 2017 09:58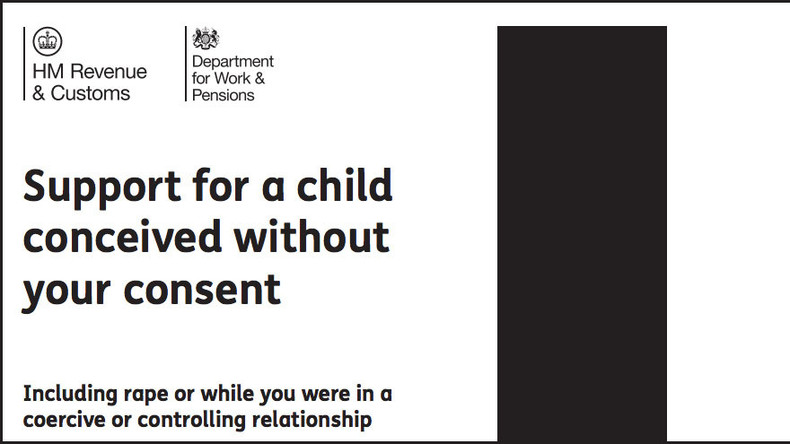 Britain's Conservative government has ruled that victims of rape must fill out a specific form in order to claim child tax credits and Universal Credit from the government, provoking public outrage.
The NCC1 4/17 form, also known as the "rape-clause," follows a series of welfare changes limiting child tax credit claims to two children. Exemptions are given to children conceived "without consent."
"The #rapeclause really is one of the most disgraceful policies ever introduced. We must all continue to oppose," tweeted Scottish First Minister and Scottish National Party (SNP) leader Nicola Sturgeon.
The move is being introduced as part of the Welfare Reform and Work Act, which was unveiled in the 2015 summer budget and will come into force this month.
Civil servants will be made to assess whether a woman's claim that her child was conceived as a result of abuse is legitimate or not.
While women may be expected to prove the veracity of their claim, many have argued that around 600,000 doctors, nurses and social workers in Britain lack the skills needed to exercise the assessment.
"Capping benefits at two children is immoral enough, but the #rapeclause is disgraceful for a civilised country. Both policies must go," the editor of the Liberal Democrat Voice website Caron Lindsay wrote on Twitter.
The Children's Society says the reform will leave around 3 million children worse off.
"Labour is calling on the Tories to scrap this inhumane policy, which will have a devastating impact upon many families on the lowest incomes in our society," Shadow Work and Pensions Secretary Debbie Abrahams said in a statement.
"An arbitrary cap on the number of children that the government will help families to bring up is not only cruel, but is bad policy. This evidence shows that it will increase child poverty.
"As 90 percent of lone parents are female it is a further example of how these six years of wasted austerity have been borne on the backs of low income mothers," the Labour MP added.
The Joseph Rowntree Foundation is also calling on the Tories to drop the policy, with the support of the Child Poverty Action Group, which has warned that children in families with more than two children are already at a higher risk of poverty.
"Our welfare reforms are incentivising work whilst ensuring everyone can access the support they need," said a government spokesman.
"We have always been clear these changes will be delivered in the most compassionate way and have consulted widely to ensure the right exceptions and safeguards are in place. We have thought carefully about how we will work with charities and health and social care professionals to support victims of rape."