New evidence of Escobar cartel hit could see British man serving life in US freed
Published time: 5 Apr, 2017 10:34
Edited time: 6 Apr, 2017 11:27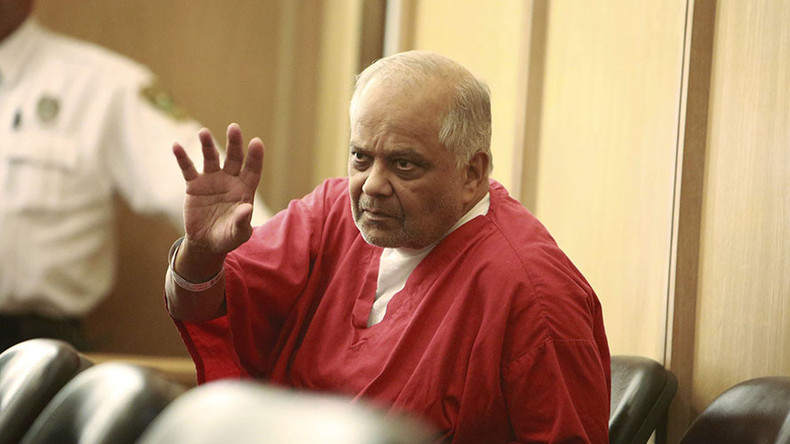 Compelling new evidence suggests that a 1986 double homicide in Miami was committed by drug lord Pablo Escobar's Colombian cocaine cartel and not by jailed Briton Kris Maharaj, lawyers say.
Maharaj, who has been in jail since 1987, has long been represented for free by British lawyer Clive Stafford-Smith, founder of the UK legal charity Reprieve.
Now a key legal opinion from judges in Atlanta, Georgia, accepts that there is compelling new evidence that could suggest the killing in a Miami hotel room of Derrick and Duane Moo Young could have been carried out by a hitman from the Medellin cartel.
The killing may be have been ordered by drug lord Pablo Escobar, who was killed in a shootout in 1993.
The legal opinion, which is based on testimony by a number of cartel members, accepts that Maharaj "could not have been found guilty of the Moo Young murders beyond a reasonable doubt, because if a hitman for the cartel committed the murders, Mr. Maharaj did not.
"All five individuals' stories reflect that the Moo Youngs were killed by the cartel," the judges said.
The case will now be subject to a hearing with a federal judge in Miami which could lead to Maharaj's release.
"It's a good day. If I'm being optimistic, this is a 'home by Christmas' event — but then they said that about World War I," Stafford-Smith told the Times.
"When I received the legal opinion, I had the totally conflicting feelings of utter elation for Kris and his wife Marita, and then an overwhelming sense of exhaustion at the work that now lies ahead.
"There are a lot of legal hurdles to jump, but this finally puts light at the end of the tunnel."
Prosecutors could now also be forced to hand over evidence which contradicts claims made about the Moo Youngs.
They were portrayed in the trial as struggling entrepreneurs who had fallen victim to a revenge killing by Maharaj.
Prosecutors could be forced to reveal evidence showing the pair was in fact laundering millions of dollars for the cartel.
The move by judges may also force authorities to release secret documents on the presence in a room across the hall of Jaime Vallejo Mejia, an agent of the cartel.
At the original trial, Maharaj's lawyer offered no defense evidence and failed to address the fact that his client had no fewer than six alibi witnesses.
Claims by key witness Neville Butler that he had himself witnessed the shooting have also been called into questioned since the trial.
"When a state judge ordered the feds to provide these documents, they ignored him. They'll have a hard time ignoring a federal judge," Stafford-Smith said.
Maharaj, who was once a millionaire businessman living in Peckham, South London, spent 15 years on death row before having his sentence reduced to life in prison.