Homeless families are being forced out of London as temporary housing costs soar
Published time: 3 Apr, 2017 11:32
Edited time: 4 Apr, 2017 09:08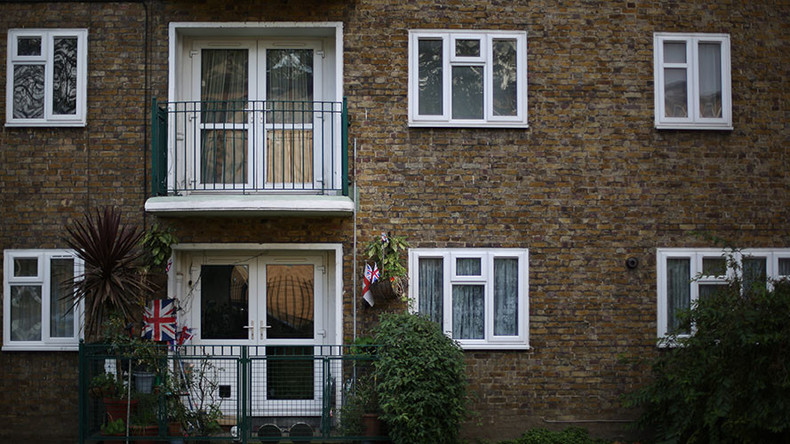 Homeless families in London are being given temporary accommodation outside the capital because the spiralling cost of rent is draining council funds, new figures show.
According to London Councils (LC), the number of placements outside the capital rose from 113 between April and June 2012 to 551 between December and April 2016.
Authorities say they are forced to drag families far outside London because of the rising cost of temporary accommodation, which has doubled in the past five years.
The total spending of boroughs on per-night accommodation jumped from £90 million ($112 million) in 2011 to £203 million in 2015.
According to Katie Webb, head of policy at housing charity Shelter, one of the key causes of family relocation outside London is councils struggling to find cooperative landlords who will secure long-term licenses for temporary accommodation.
As the capital lacks "affordable" solutions, authorities are resorting to per-night rental agreements or relocation outside London, Webb claimed.
The number of per-night rents has tripled since 2012 – from 540,000 to 1.8 million.
"Because councils can't find anything affordable and suitable in their own local area, then they do often have no choice but to look to cheaper areas outside of the capital," Webb said.
Abigail Tumfo is among those who have been relocated outside London by Waltham Forest Council. She said her relocation to Hertfordshire has cut her off from family and friends.
Tumfo, who was evicted by her previous landlord because he did not accept children in his property, said: "I feel like I've been abandoned.
"I've been here for three years, now, and I'm still here, the council are still not doing anything to move me back to where I'm from," she said.
"It's like my life has been put on pause."
Tumfo also complained that her flat falls short of decent accommodation, and claimed she "deserves" better.
"I've had to deal with mould, I've had to deal with cockroaches, I've had to deal with crazy people banging on doors at night, breaking through people's doors," she said.
"It's been a hell living in this place, for me and my kids. My eldest thinks this is normal but I know this isn't a normal life for her."
According to figures released by 20 London borough councils under freedom of information, more than £35 million was spent between 2015 and 2016 on per-night rents. That compares to just over £6 million spent in 2011-2012.
Dave Smith, policy officer at the Residential Landlords' Association, says the problem lies in the authorities' failure to swiftly deal with accommodation practices.
"One of the biggest problems that councils have is that they are not addressing people being evicted from properties quickly enough."
He said families are being left in properties right to the last minute, meaning councils then have no choice but to search for short-term emergency accommodation.
The findings come after recent news that more families are falling into homelessness because of rising rents and cuts to welfare.
According to the BBC, the total amount of families made homeless since 2010 has risen 600 percent.
Meanwhile, councils have increased their spending on temporary accommodation for the homeless by 2,000 percent.