Scottish parliament expected to back 2nd independence referendum
Published time: 22 Mar, 2017 11:38
Edited time: 23 Mar, 2017 09:35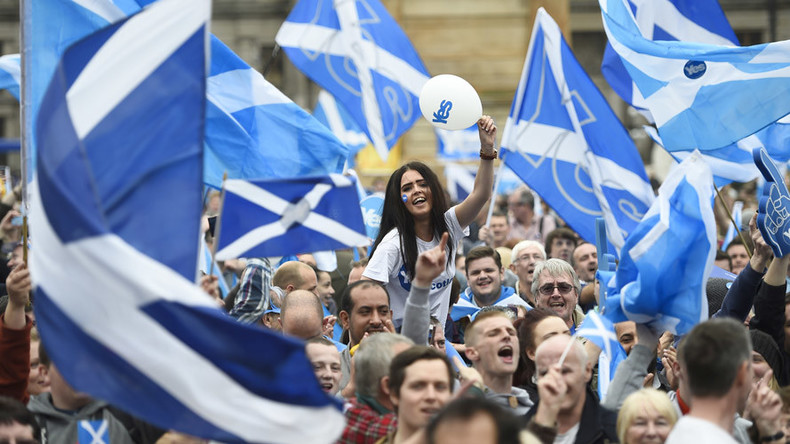 Scottish MPs are expected to back First Minister Nicola Sturgeon's bid for a second independence referendum when they vote later on Wednesday.
The ballot for a section 30 order, the mechanism authorizing a vote, follows a two-day debate on whether Sturgeon should seek permission to hold another referendum on independence from the United Kingdom between autumn 2018 and spring 2019.
While Conservative, Labour, and Liberal Democrat MSPs have promised to block such a ballot, the pro-independence Scottish Greens, who have six MSPs, are expected to give Sturgeon the support she needs for her motion pass.
Last week, Prime Minister Theresa May said "now is not the time" for another vote, implying she will reject the SNP's preferred timeframe.
Sturgeon opened Thursday's debate by saying it would be "wrong, unfair and utterly unsustainable" for the UK government to block her request, while telling the Scottish parliament that there was an "unquestionable democratic mandate for an independence referendum."

"The voice of this parliament has been ignored at every step of the way and, far from any indication of new powers, we now face the prospect of the UK government using Brexit to reserve itself for powers in areas that are currently devolved to this parliament," she said.
Scottish Conservative leader Ruth Davidson accused the SNP of trying to "bulldozer" the vote through, saying there was no support in Scotland for a second referendum.
Scottish Labour leader Kezia Dugdale said that "leaving the UK is the only thing that matters" for Sturgeon.
"It isn't improving education in Scotland; It isn't lifting children out of poverty. It's independence. That will always come first and always has," she said.
In last June's Brexit referendum, about 62 percent of Scottish voters backed the UK remaining in the EU.
The SNP manifesto said they would hold another ballot on independence if there was a "material change in circumstances" after the first referendum in 2014. They now say Scotland is being removed from the EU against its wishes.
However, Scottish voters' support for staying in the UK is the highest it's been in two and a half years, a poll has revealed.
According to a YouGov survey published by The Times last week, first minister Nicola Sturgeon would have to close a 14-point gap to win an independence referendum.
The poll found that, after "don't knows" and those who won't vote were excluded, 57 percent of voters want to remain part of the UK and 43 percent want independence.
YouGov recorded a 14-point lead for Scotland staying in the UK in August of 2014, a month before the first independence referendum was held.