Crashing pound putting families' post-Brexit living standards at risk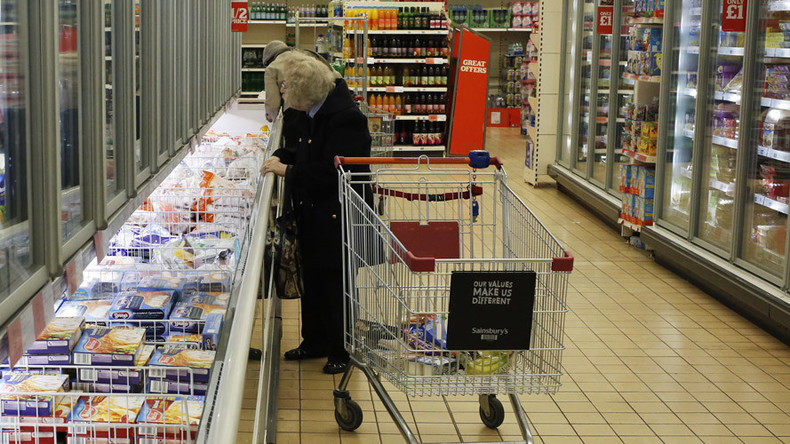 There are signs that the financial fallout from the Brexit referendum is beginning to have a negative impact on people's standards of living thanks to a spike in inflation that is squeezing incomes as a result of a crashing pound sterling.
A 15 percent drop in the value of British currency is now starting to affect people's living standards, as it freezes earnings and drives up prices.
According to the Office for National Statistics, inflation in the UK hit 2.3 percent in February, its highest level since September of 2013, and well above the predicted 2.1 percent.
Moreover, average earnings growth was below the inflation rate for the first time in three years, rising by just 2.2 percent in February.
Average food prices are up for the first time since April of 2014, increasing by 0.3 percent. Import costs and poor harvests are apparently offsetting savings achieved through competitive supermarket deals. More expensive fish and fruit, with particularly "large prices" for vegetables, are responsible for the increase in the cost of living.
General Secretary of the Trades Union Congress Frances O'Grady has called for reform in order keep people from plunging into crisis as they see their wages stall and living costs soar.
"If the government doesn't wake up, we risk sleepwalking into another living standards crisis.
"We urgently need more investment in skills and infrastructure to build strong foundations for better-paid jobs," O'Grady was reported saying by the Guardian.
"And it's time to scrap the pay restrictions hitting hard working teachers, nurses and other public servants," she added.
Inflation has risen from 1.8 percent in January to 2.3 percent, which is above the Bank of England's target of two percent.
The considerable jump has sparked speculation that the Bank will raise interest rates to keep prices stable.
Research by the Times has found more than sixty instances when retailers and manufactures have blamed the surge in prices on the outcome of the EU referendum. Speaker-producer Sonos, for example, has increased the cost of its Connect range by over 25 percent.
Fathom Consulting said the rise in inflation is "exceeding market expectations," while reiterating the prospect of an interest rate hike to offset it.
A former member of the Bank of England's monetary policy committee, Andrew Sentance, who is now a senior economic adviser at PWC and is not alone in the belief that inflation will surge to three percent by the end of the year, said in the same paper: "The Bank should be considering a rise in interest rates to counter the surge in inflation."
Responding to the figures, a Treasury spokesperson said the government is taking measures to alleviate a potential financial crisis for families, including taxes cuts and wage increases to come into effect next month.
"The Government appreciates that families are concerned about the cost of living, and that is why we are cutting tax for millions of working people, increasing the National Living Wage to £7.50 per hour from next month, and freezing fuel duty for the seventh year in a row," he said.
You can share this story on social media: