'Beware of the Jews' road sign hoax causes outrage in North London Orthodox enclave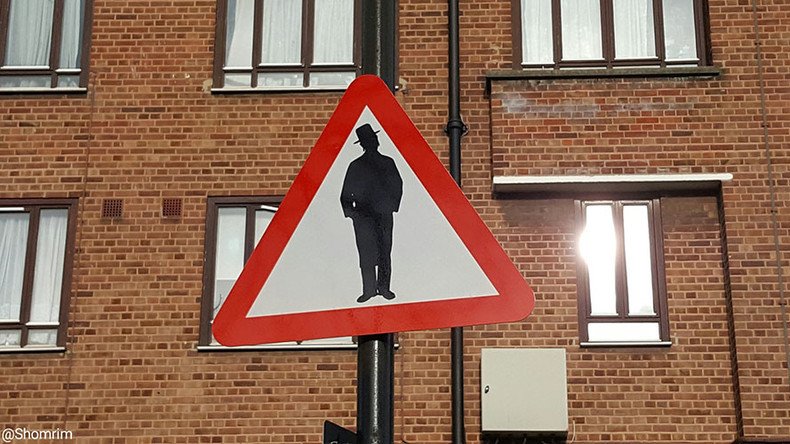 The artist behind a 'Beware of the Jews' road sign found in one of London's largest Orthodox Jewish communities has apologized for causing offence after it was reported as hate crime.
The sign, which features a silhouette of a traditional Orthodox Jewish man with curly hair and Fedora hat, was spotted on Wednesday morning near a synagogue in Stamford Hill, a major Jewish enclave in North London.
Photographer and artist Franck Allais said the controversial sign is part of an artistic project, which includes depictions of individuals crossing the streets in the areas where the signs were then hung.
"It was a project about crossing the road … how everyone is different, everyone has an identity. There is not only one sign in the street," said Allais.
"I put more signs up in the street, but only this one got noticed.
"I am sorry for any offence caused."
Some of the other signs, which include a women pulling a trolley and a man in a wheelchair, were later found and shared on social media.
A member of the Jewish neighborhood watch group, Shomrim, first spotted the sign and reported it to police. The sign was then taken down by Hackney Council.
Barry Bard, supervisor at Stamford Hill Shomrim, said even though the community is used to verbal abuse and even assault, this particular act has caused particular concern because of the obvious planning behind it.
"The people of Stamford Hill are very sadly used to instances of anti-Semitic hate crime, but most of those times it will be verbal abuse or even assault," Bard said.
"The person who planned [this sign] has obviously gone to an effort to cause alarm and distress to local people."
Shadow Home Secretary and MP for Hackney North Diane Abbott took to social media to condemn the sign, branding it "disgusting" and "unacceptable."
Labour MP for Tottenham David Lammy followed suit, calling the sign "despicable."
A month-long study of Stamford Hill last year recorded 32 instances of anti-Semitic behavior in the neighborhood, including one against an eight-year-old boy who was beaten up on his way home.
However, the group said the 32 instances were just "the tip of the iceberg" as many cases go unreported.
London Mayor Sadiq Khan, who says he has a "zero-tolerance" approach to hate crime, pledged to set up urgent talks between police and Stamford Hill's watch group following a spate of incidents in the last month alone.
"That number of reports in a single month is of concern to me," said Khan, the Evening Standard reports.
"Both I and the MPS [Metropolitan Police Service] agree that hate crime is under-reported and this is particularly true with regard to hate crime affecting London's Orthodox Jewish communities."
Metropolitan Police figures show London has seen a staggering rise in hate crimes in the last year.
Hate crimes against disabled people went up 216 percent in the last year alone, up from 251 in 2015-16 to 794 in 2016-17.
Victims of race or religious hate crimes saw an increase of almost 20 percent in the same period.
Charities have expressed alarm at the newly-released police figures. They argue the spike in hate crimes is linked to the divisive rhetoric surrounding the EU referendum and Brexit debate.
"The time and the nature of these increases means that they are undeniably linked to EU referendum," Mike Ainsworth, a director at Stop Hate UK, told the Independent.
"It was the language of the Leave campaign, rather than the result, which gave license to those with prejudiced views to commit hate crimes."
The London figures reflect the jump in hate crimes on a nation-wide scale, as there was a 41 percent rise in such offences recorded in July 2016, the month of the EU referendum vote, according to the Home Office.
You can share this story on social media: