British pro-Palestinian activist denied entry to Israel for promoting boycotts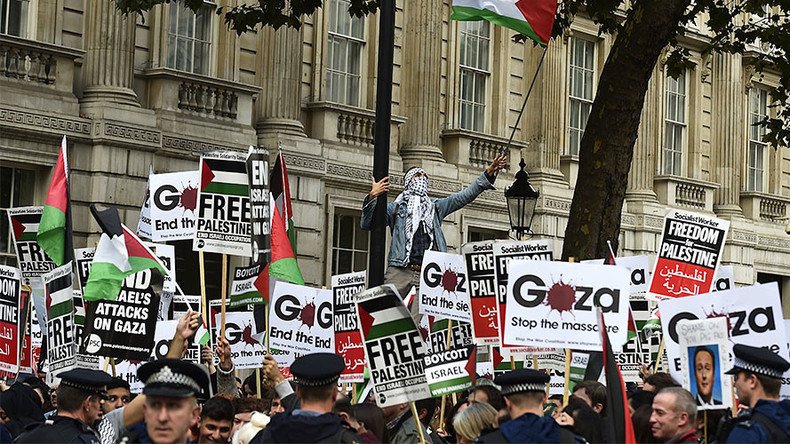 A British pro-Palestinian activist has been refused entry to Israel a week after its parliament passed a law banning foreign nations who call for boycotts of the country.
Hugh Lanning, a former chair of the pro-BDS Palestine Solidarity Campaign (PSC), was barred from entering Israel on Sunday night, according to a statement released by the Israeli Interior Ministry.
Lanning was expected to be placed on a flight back to the UK sometime overnight or on Monday.
The statement, as reported by the Times of Israel, said Lanning was not allowed to enter because of his continued efforts to promote a boycott of Israel. It highlighted the PSC's involvement with groups operating against Israel in the UK and said some of its members were aboard vessels that were part of the flotilla aimed to break the blockade against Gaza in 2010.
The statement also said Lanning had met with senior Hamas figures in Gaza in 2012.
"Lanning has personally and consistently promoted a boycott against Israel and has made so abundantly clear in public," the statement said.
"Those who act against Israel must understand that the reality has changed. No sane country would grant entry to central, pro-BDS figures who want to harm it and isolate it."
A statement from the Israeli embassy in the UK claims Lanning is "associated with the leaders of Hamas, which is designated as a terror group across the European Union; a group whose anti-Semitic charter calls for killing all Jews.
"Israel is seeking a peaceful resolution to its conflict with the Palestinians. Those who promote extremism should not be allowed to foment their hatred in Israel," it added.
The legislation blocking foreign nationals who have publicly called for a boycott of the Jewish state, or work on behalf of an organization that advocates these measures, was advanced by right-wing and centrist coalition lawmakers.
The law also extends to supporters of boycotts of West Bank settlement products.
In response to the ban, Ben Jamal, director of the PSC, told the Jewish Chronicle that Lanning was the "first victim" of the new law.
"By introducing this law, Israel is violating fundamental freedoms essential to a democracy – the right to free speech, to criticize government policies and human rights violations, the right to advocate nonviolent actions to address human rights abuses, the right of free movement and travel. A democratic country does not behave the way Israel is behaving."
Jamal urged the UK government to condemn Lanning's deportation.
"We call upon the British government to make clear to Israel that it is not acceptable for it to ban entry to British citizens whose only crime is to advocate for human rights of the Palestinian people and to protest against policies that violate those rights."
You can share this story on social media: