'Death to All Jews' video 'went too far': YouTube & Disney drop internet star PewDiePie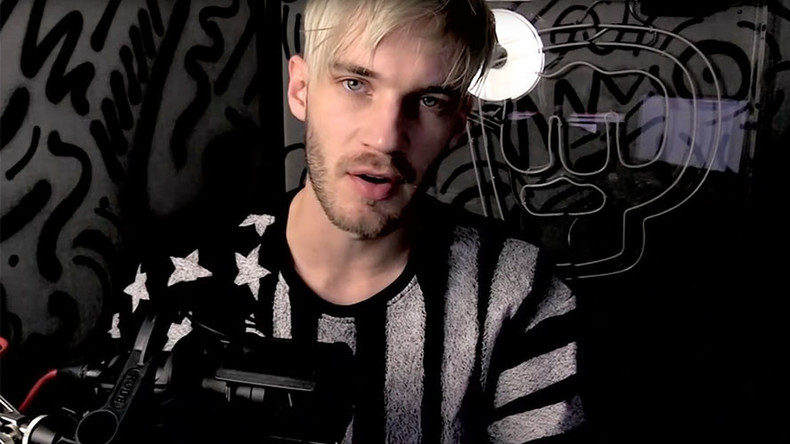 Shows by viral sensation 'PewDiePie' have been dropped by Disney and YouTube over a video in which he paid two men to hold up a sign that read 'Death to All Jews'.
The 27-year-old Swedish vlogger, whose real name is Felix Kjellberg, operates YouTube's most popular channel with more than 53 million followers. The controversial videos have since been removed, however two of the YouTuber's biggest backers have withdrawn their support for him.
PewDiePie has been associated with Disney through Maker Studios, a multi-channel network with a tranche of YouTube stars. However, on Monday Maker Studios announced it is terminating the arrangement.
READ MORE: 'Rights for whites': Fascist slogans & swastika found in Exeter University student halls
"Although Felix has created a following by being provocative and irreverent, he clearly went too far in this case and the resulting videos are inappropriate. Maker Studios has made the decision to end our affiliation with him going forward," the company told Variety.
YouTube followed suit on Tuesday with the announcement that the star's web television series, Scare PewDiePie, which was only available on YouTube's subscription service, YouTube Red, was being cancelled. "We've decided to cancel the release of Scare PewDiePie Season 2 and we're removing the PewDiePie channel from Google Preferred," a Youtube spokesperson confirmed to RT.com.
The news has divided his fans and viewers online, with some taking to social media to defend the YouTube star while others criticized his 'anti-Semitic comedic prop'.
Google Preferred aggregates YouTube's top content. Kjellberg will still be able to run ads on his channel following the removal but he may find it difficult to generate as much revenue as brands pay extra to YouTubers listed on the premium advertising service. Forbes reported that he made $15m through YouTube in 2016.
The Swede defended his actions in a now-deleted video: "What I just think, and I believe strongly in, is that it is 2017 now. We're going to have to start separating what is a joke, and what is actually problematic. Is a joke actually pure racism? Is something that would be considered a joke purely homophobic, or anti-semitic and all these things? Context fucking matters."
Kjellberg also offered an explanation on microblogging site Tumblr. "I was trying to show how crazy the modern world is, specifically some of the services available online. I picked something that seemed absurd to me. That people on Fiverr would say anything for $5.
"I think it's important to say something and I want to make one thing clear: I am in no way supporting any kind of hateful attitudes," he added, before acknowledging that the jokes were offensive and saying that he does not support anti-Semitism in any way.
YouTube guidelines say "hate speech" refers to content that promotes violence or hatred against individuals or groups based on certain attributes. "There is a fine line between what is and what is not considered to be hate speech," the company says. "For instance, it is generally okay to criticize a nation-state, but not okay to post malicious hateful comments about a group of people solely based on their ethnicity."
The YouTube sensation previously claimed, to much fanfare, that he would delete his channel over a change to YouTube's algorithm. He then backed out of the move. He also had his Twitter account suspended for claiming that he had joined Islamic State (IS, formerly ISIS/ISIL).
You can share this story on social media: