Calls for Tory Chancellor Hammond to publish taxes after Corbyn criticism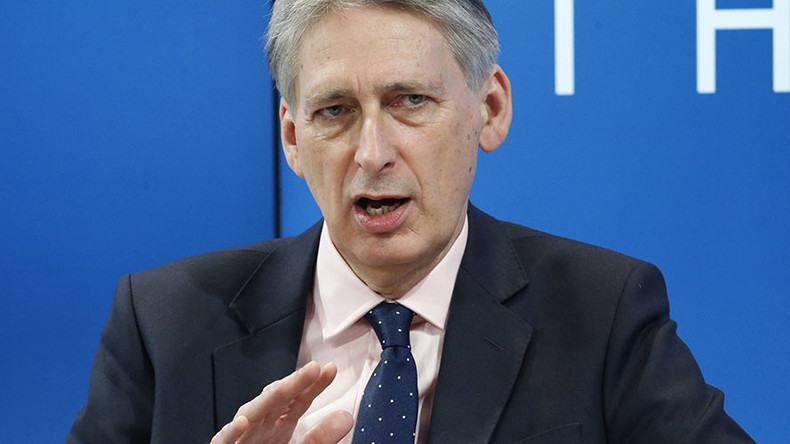 Tory Chancellor Philip Hammond is facing calls on social media to publish his taxes after opposition leader Jeremy Corbyn made his own accounts public.
"Media care more about minutia of #Corbyntaxreturn than Hammond's total failure to publish his own… makes you wonder," Twitter user Daniel Gerke wrote.
A user under the name of Phil Vanes added that it didn't "stack up" that Corbyn publishing his accounts leads to him being labelled a "tax avoider" while Hammond is not being criticized despite refusing to publish his own.
Corbyn's tax returns, published Sunday, faced scrutiny as they showed the Labour leader earning £114,342 (about US$140,000) last year. His fiscal contributions added up to £53,298, but critics believed there was around £40,000 missing from the politician's accounts.
"Transparency invites scrutiny. I welcome it, as should all those seeking highest office," Corbyn said, nodding to the public pressure for Hammond to publish his books.
"My taxes (are) fully paid, nothing missing, nothing hidden," he added.
Labour stood by its leader when Conservative-leaning newspapers argued his salary should actually be around £150,000 – which is higher than he declared. Corbyn has a state pension and a pension from his job in local government, together worth £36,045.
Last year he was fined £100 for failing to send a HM Revenue and Customs (HMRC) document on time.
"Jeremy's tax return is complete and accurate. He has declared all income and paid the appropriate amount of tax," a Labour spokesman said in reply to the allegations of tax evasion of around £30,000.
"The payment he received in 2015-16 as leader of the opposition of £27,192 appears on the return as a 'benefit' rather than as pay because that is how it is categorized by HMRC. We are disappointed the Cabinet Office did not clarify this and explain the figure used on the P60 yesterday in answer to media inquiries they received."
Jeremy Corbyn has published his FULL tax return & now calls on Phillip Hammond to do the same. Jeremy earned £114,342 & paid £35,298 in tax pic.twitter.com/yu79QBcniE

— Eoin Clarke (@LabourEoin) March 6, 2017
He added that it was also a "matter of concern" that many media outlets had made the claims without "verifying or confirming the facts."
"The owners of the media companies that have attempted to cast doubt over Jeremy's transparent and accurate tax return are of course among those who could stand to lose from the tax transparency and justice the British people demand," he said.
"Jeremy believes firmly in transparency. These media barons have tax questions of their own to answer. Tax avoidance and evasion deprive the public purse of billions in revenue for vital services and is unfair on those with much lower earnings who pay a higher proportion of their income in tax."
let's spend 50% of our time scutinising corbyn's tax return and 50% trying to find out why philip hammond won't release his. deal?

— Ellie Mae O'Hagan (@MissEllieMae) March 6, 2017
Mere hours before Corbyn published his tax returns, the Chancellor had repeatedly declined a challenge from Shadow Chancellor John McDonnell to open his books.
"I have no intention of doing so," Hammond told the BBC's Andrew Marr when asked about publishing his own taxes.
"Just for the record my tax affairs are all perfectly regular and up to date. But I think this demonstration politics isn't helping the atmosphere in British politics."
McDonnell was one of the first to make his own fiscal contributions public, making it known that a Labour government would force those earning over £1 million to publish their tax records.
The Cabinet Office refused to make any further comment on the matter other than it was "not in the business of talking about people's salaries."
Prime Minister Theresa May made her own taxes public last year during the Conservative leadership contest, but "no plans" were made for this to become a regular action.
You can share this story on social media: