May launches Tory leadership challenge, as Gove & Leadsom make surprise bids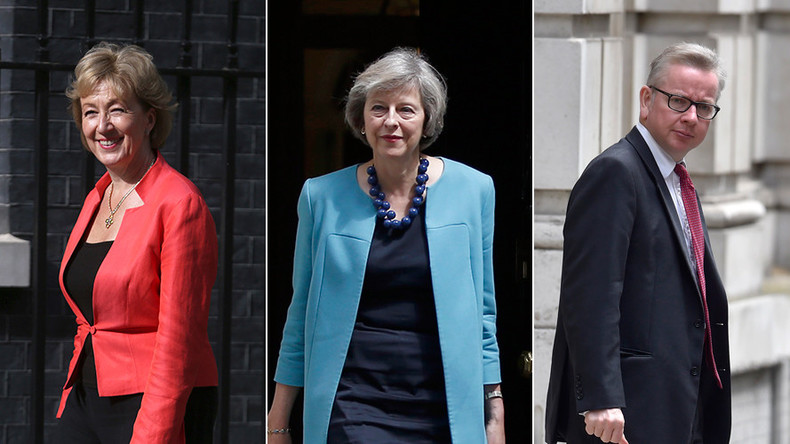 Theresa May, Michael Gove and Andrea Leadsom have announced plans to run for leadership of the British Conservative party.
Read more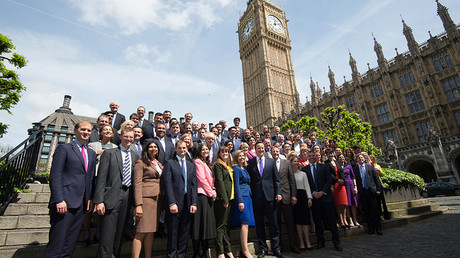 May, who is the Home Secretary and campaigned to 'Remain' in the EU, has announced her intention to run.
She says she is capable of "uniting Britain" and healing divisions caused by the referendum result.
"We need a prime minister who is a tough negotiator, and ready to do the job from day one."
May says the country needs "strong leadership and a clear sense of direction" and "under my leadership the Conservative Party will come back together in the interests of the whole country."
May has announced she would set up a 'ministry for Brexit,' which would be responsible for conducting Britain's negotiations with the EU.
"Brexit means Brexit... the public made their verdict," she said.
"I was open about the costs and benefits of EU membership during the campaign. So let's make the most of the opportunities of Brexit."
She said there should be no general election until 2020, and no decision to invoke Article 50 of the Libson Treaty before the end of the year.
The status of British nationals living or working in the EU, or EU nationals in the UK would not change, she said.
Theresa May on Boris's negotiating chances: "The last time he did a deal with the Germans he came back with three nearly-new water cannon."

— Jim Waterson (@jimwaterson) June 30, 2016
A Conservative government under May would no longer seek to reach a budget surplus by the end of parliament, to avoid tax increases that might disrupt investment, she said.
"Nobody should fool themselves that this process will be brief or straightforward," she said.
Theresa May tells @tnewtondunn net migration of tens of thousands is "where we want to aim for" - Doesn't set out any red lines for EU talks

— steve hawkes (@steve_hawkes) June 30, 2016
May said she wanted to make fighting inequality the hallmark of her campaign.
"Frankly, not everyone in Westminster understands what it's like to live like this. And some need to be told that what the government does isn't a game, it's a serious business that has real consequences for people's lives."
Theresa May coming out like she owns inequality rhetoric. The labour party must be embarrassed. Saying one thing & doing another

— Staffs Regeneration (@Regenerate_SOT) June 30, 2016
In an announcement on Thursday, Gove said that Boris Johnson "cannot provide the leadership or build the team for the task ahead."
Gove, the Justice Secretary and prominent Brexiteer, had been expected to run on the same ticket as Johnson, after the pair led the UK's 'Leave' campaign.
"I respect and admire all the candidates running for the leadership. In particular, I wanted to help build a team behind Boris Johnson so that a politician who argued for leaving the European Union could lead us to a better future," he said in a statement.
It is not known why he has backtracked on his support for Johnson.
"In the next few days I will lay out my plan for the United Kingdom which I hope can provide unity and change," he said.
Theresa May allies pretty happy at Gove announcement - lays bare deep splits in Johnson camp

— Emily Ashton (@elashton) June 30, 2016
Johnson, the former mayor of London, is soon expected to announce his intention to enter the leadership race.
Andrea Leadsom, the energy minister, has also put her name forward to be the next leader of the Conservative Party.
"Delighted to say I'm running for the Conservatives leadership. Let's make the most of the Brexit opportunities! #FreshStart," she tweeted.
My absolute priority is securing #BREXIT, in line with the democratic mandate. Huge opportunity for our great country!

— Andrea Leadsom MP (@andrealeadsom) June 29, 2016
Work and Pensions secretary Stephen Crabb launched his campaign on Wednesday.
He has the support of Business Secretary Sajid Javid and has "a plan for unity and opportunity."
Former Defence Secretary Liam Fox has also thrown his hat in the ring.
YouGov Tory members poll:

Positive/negative opinion (net)

Theresa May: +59%
Michael Gove: +41%
Boris Johnson: +28%

— Adam Bienkov (@AdamBienkov) June 30, 2016
After Britain voted for Brexit last Thursday, outgoing prime minister and 'Remain' campaigner David Cameron announced he would stand down as the Conservative Party's leader, saying that his successor should be elected by the time of the party's conference in October.
Nominations for the contest opened on Wednesday evening, and candidates have until noon on Thursday to come forward.
The winner is expected to be announced on 9 September.